This is my review on the Yamaha PSR E373 portable arranger keyboard. If you're familiar with my website and YouTube channel, you probably know that I usually review entry to mid level digital pianos, so why am I reviewing an arranger keyboard? Well I've been looking into portable options for piano players to have something to easily take to a friends house, or the park or to a low key band practice or even for small casual performances like busking, so the E373 is definitely an option for that. So this review will be focusing on how well I think the PSR E373 will work as a portable option for a piano player who is used to playing a weighted key piano, so while I will touch on some of the many arranger features, it's definitely not my area of expertise or interest and there are tons of videos out there on those features.
Just in case you don't know what an arranger keyboard is; arranger keyboards typically have a large number of voices, and they will have not only a large number of drumbeats in different genres included, but will also have accompaniment instruments that will play along with you, based on chords that you play in your left hand.
---
Yamaha PSR E373 Review – The Summary
The Keys
61 full sized organ style synth action keys with 4 levels of touch sensitivity (3 levels and off)
The Voices
622 voices (including a highly upgraded main piano voice, 13 "featured" voices & 11 "Super Articulation Lite" voices), 48 notes of polyphony
The Effects
38 DSP effects, 12 types of reverb, 5 types of chorus and 6 types of EQ presets, 26 types of auto harmony
Connectivity
Headphone (1/4″), Audio in (1/8″), MIDI USB (MIDI & Audio!) out, 1/4″ pedal input for sustain, arpeggiator or articulation
---
The Rest
Backlit menu screen and very intuitive context sensitive user interface
205 rhythm styles with 2 variations of each, optional accompaniment, optional intro/ending, fills, two chord modes for triggering changes
9 registration memory slots to save your setups
170 style and voice presets called a "Music Database" which are basically presets for famous songs (preset tempo, style and voices for popular songs – you have to decipher the "code name" to figure out the song)
Metronome
Transpose up or down 12 steps, octave shift
Split & layer with ability to adjust relative volumes
Arpeggiator with 150 types
One touch setting (choose a style, get a default "appropriate" voice)
Song recorder (5 songs, up to 2 tracks each)
Lesson feature with matching downloadable song book
Battery option (6 x AA)
5 watts of speaker power
Compatible with Yamaha Rec'N'Share app for creating quick and easy videos
---
Yamaha PSR E373 Review – The Details
Menu & User Interface
The buttons on the left half deal with volume, recording, controlling the rhythms and metronome, and the lesson function. The ones on the right side are for navigating through voices, saving or recalling registrations, modifying voices through layering/splitting/effects & triggering articulation.
The display is clear and backlit, and the addition of clearly labelled categories of rhythms, voices etc right on the keyboard itself really helps in navigating selections using the menu. The menu is context sensitive and will adjust what is displayed as you make selections, and enter / exit voice selection vs. style selection etc. While there are some settings that will require you to do some "menu deep diving", the interface is overall very easy to use and navigate once you are used to it. The "portable grand" dedicated button to quickly return your voice to the main grand piano is a nice feature. Here is a quick video outlining the user interface including setting registrations: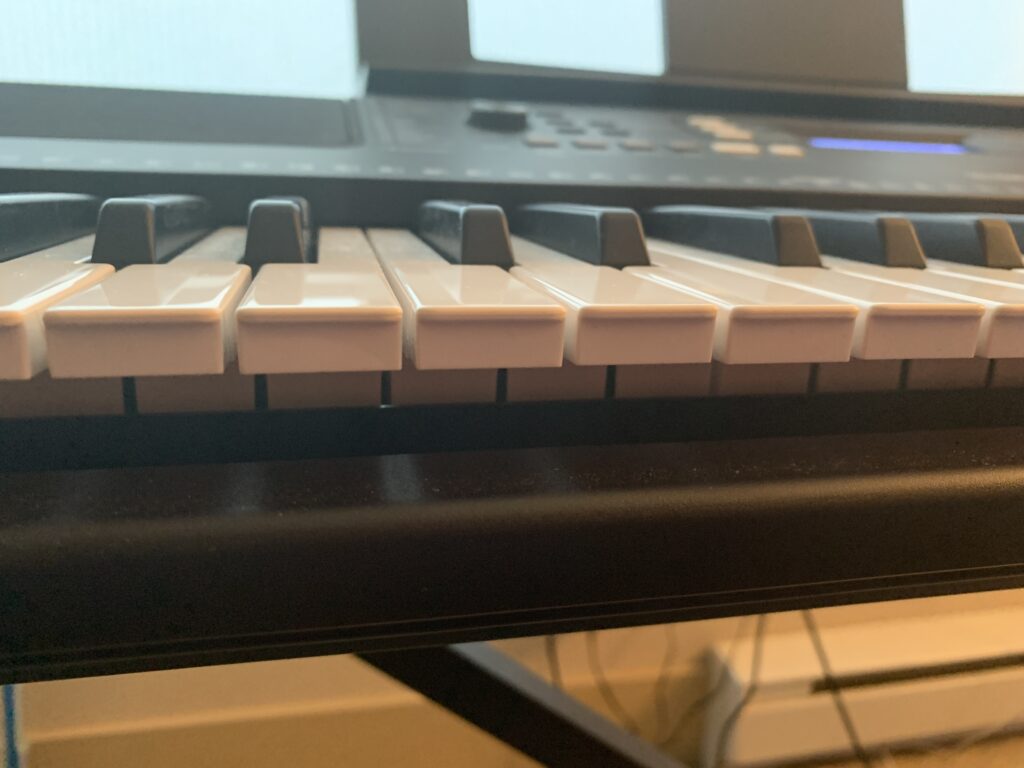 The Keys
The Yamaha PSR E373 has 61 full size organ style synth action keys with 4 layers of touch sensitivity. They are thinner than a "box shaped" piano style key, but they are full width.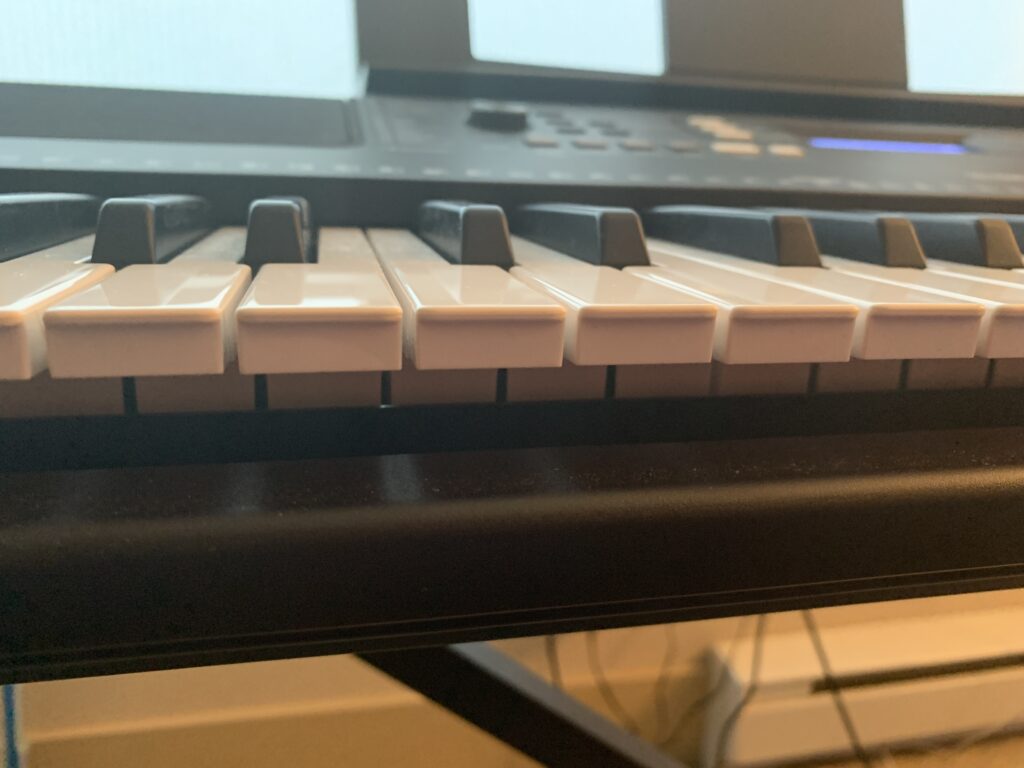 While the keys are full sized, they are not weighted or semi-weighted, so they will feel nothing like the keys on a real or weighted digital piano. The action on these keys I find to be extremely light; when I first started trying the keyboard out on the default touch sensitivity ("normal") I found I was having difficulty controlling my dynamics (I'm used to a fully weighted hammer action piano); so I switched the touch sensitivity to "hard" and that suited my playing style much better.
Once I switched the touch sensitivity and spent some time getting used to this action, I was actually quite impressed with the level of dynamic control that I had. While the keys are very light, they have a very consistent and predictable dynamic to them. Since they are full sized, someone used to a piano will be able to adapt to the spacing pretty quickly, but the synth action will be an adjustment that will take some getting used to.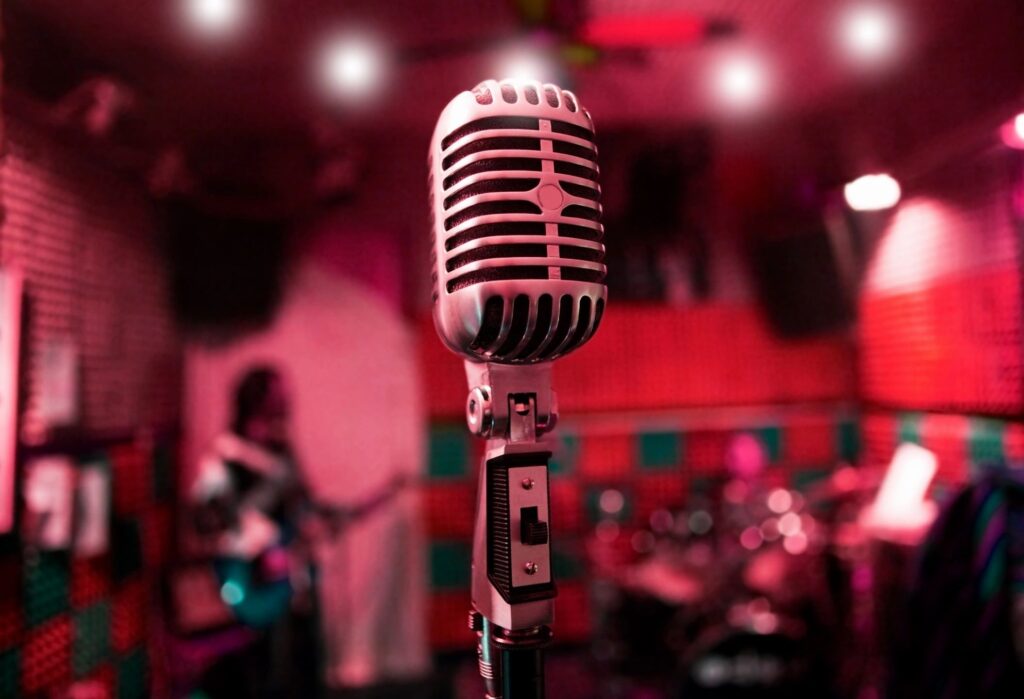 The Voices
There are a staggering 622 voices on the Yamaha PSR E373, including some very high quality and unique ones (especially at this price point). There are 241 "panel" voices, which are really the "main" ones (the best quality). The remaining voices are either drums or "XG Lite" voices, which are voices brought forward from prior models using older samples – they are by no means "bad" and are nice to have, but are not quite the same quality as the main panel ones.
With that being said, there are some spectacular voices in the main panel voices library. The first one, and arguably one of the main hilights of this keyboard is the new upgraded main piano voice. This voice is sampled from Yamaha's CFX grand, and is a very high quality sample that was the main piano voice on Yamaha's recently retired Tyros keyboards (which sold for thousands of dollars). In my opinion this piano voice is spectacular for this price range, and rivals the main piano voice on my Yamaha P-125 piano which sells for 3x as much (my P-125 uses an older sample from the Yamaha CF piano). In comparing this piano voice to the Casiotone CTS-300 arranger keyboard which I previously reviewed, there is no comparison.
There are also 13 "featured" voices on the PSR E373; they are called "Live", "Sweet" or "Cool" (not sure what THAT is all about. . . ) – these are high quality samples (mostly keyboard instrument samples like electric pianos) that have some well thought out DSP effects pre-applied to them. Here is a quick video on a few of the voices (there are way too many to demo all of them), and I will also demonstrate the split & layering functionality.
In addition to the main piano and "featured" voices, the PSR E373 also has 11 "Super Articulation Lite" voices that are really quite impressive. These are non-keyboard voices like flutes or guitars that are extremely realistic to begin with (the flute is very breathy and realistic), but there is a different sample that you can trigger with the "Articulation" button (you can also set the pedal to trigger articulation instead of using for sustain). With the flute, it will be a staccato type effect, with guitars you may get harmonics, or slides or "hammer-ons" – super cool. And since these voices are not piano voices, switching the pedal from sustain to articulation shouldn't be a big issue. Here is a quick video showing some of these cool voices:
---
The Effects
The Yamaha PSR E373 has a HUGE amount of effects that can be applied to your voices to customize them to your liking. There are 38 DSP (Digital Signal Processing) effects:
In addition to the DSP effects, the Yamaha PSR E373 has:
12 types of reverb
5 types of chorus
6 EQ presets to choose from
26 types of auto harmony
So with all of these effects at your disposal, you have a ton of options and combinations to fine tune your voices to your liking.
Rhythms & Accompaniment
The PSR E373 has 205 rhythms from a wide variety of genres with optional sync start, intros, endings, fills as well as optional accompaniment, which includes backing bass and a rhythm section. A nice feature here is you can adjust the rhythm & accompaniment volume if you want it adjusted relative to the main voice you are using. If you don't want the accompaniment, you can just play along to the drum track, and still take advantage of the variations (2 types per style), optional intros/endings, and also insert fills. So even if you are not interested in the arranger features, having a wide selection of drum styles to play along with is never a bad thing. Here is a quick video showing the auto accompaniment, including using synch start, fills and style variations:
For triggering the auto accompaniment, most entry level arranger keyboards will have multiple "chord modes" for choosing what chords the accompaniment should be playing – the Yamaha PSR E373 actually has less choices than most arrangers do for this, with only two choices. Even the cheaper Casiotone CTS-300 has SIX chord modes to choose from. The first choice on the PSR E373 is "full chord", where you need to play the full chord that you want in your left hand, and the accompaniment will follow you. There is also an interesting option, especially for beginners which Yamaha calls "Smart Chord". In this mode, you first specify what key the song is in, and then you can play chords in your left hand with a single finger, since the keyboard can "deduce" what chord should be played based on the key signature you chose. For example, if the song is in the key of C, and you play the A key, you will get an A Minor chord since that is the A chord in the key of C. This is an interesting option for a beginner; I do think if it was me I would just play the full chords and not worry about it. Here is a quick video demonstrating how the smart chord feature works:
There are TONS of useful rhythms available; I was able to find usable rhythms for straight & syncopated beats, as well as some shuffle rhythms and some useful 3/4 or 6/8 time signatures. I'm pretty much a rock/pop/blues player, so I didn't investigate many of the other styles and ethnic beat options, but there are quite a few choices for those as well.
Music Database
The Yamaha PSR E373 has a "Music Database" which is basically a 170 presets for famous songs. So when you choose one, the keyboard will be set to the appropriate tempo, style and recommended voices will also be set for you. The songs are listed in the manual, most with "coded" names due to licensing, but they are pretty easy to figure out. Here is a quick example where I just load one of the music database songs and play with the settings it loaded:
Registrations
The Yamaha PSR E373 has the ability to save up to 9 registrations so you can save your current settings (voice, style, tempo, effects, etc) for quick and easy recall. You can save and recall registrations quickly and easily just using the number pad. While it is nice that you have 9 banks available, on a keyboard that has this many intricate settings and options, it would be really nice to have 30 or more registrations, so that you could use a registration for each song in your repertoire. One issue I noticed is that the octave shift (I like to shift the octave down 1 on a keyboard with 61 keys), that I could do that (a bit of a deep dive in the menu), but would then have to repeat that procedure every time I chose a different voice. A dedicated button for the octave shift would be a real nice addition to this keyboard (I go over setting registrations in the user interface video earlier in the review).
---
Connectivity
For connectivity, there is a 1/4″ port for a sustain pedal, a 1/4″ headphone port that you could also use with a splitter cable to go to external speakers, or an audio interface, PA etc. There is a handy 1/8″ audio in so you can connect an external sound source like an iPad to play along with YouTube or apps etc.
A huge feature on the Yamaha PSR E373 is that it has an audio interface built into the USB to device port; so on most keyboards, this port is used to transmit only MIDI data (which is the data of what you play, not the actual sound of the keyboard) to a pc or iPad so you can then work with that MIDI data in recording software (using the sounds built into the software, not the actual sounds from your keyboard). But with the built in audio interface, you can not only transmit MIDI data, but you can also transmit AUDIO data (which IS the sound of your keyboard) in both directions using this port. The benefits of this are huge:
This allows you to record audio without the need for an external audio interface device – with most keyboards to record audio, you have to use the line out/headphone ports to connect to an external audio interface device which in turn connects to a pc or tablet running recording software like GarageBand; with the PSR E373 you can record audio directly to your device (and this is not just easier but also gives you a much better quality audio signal, because it skips a round of processing done by your external interface)
You can also use this connection as an audio in to stream audio from your device to your piano so you hear that audio through your speakers / headphones, as an alternative to using the audio in port
Yamaha Rec'N'Share App
The free Yamaha Rec'N'Share app takes advantage of the built in audio interface on the Yamaha PSR E373 by making it SUPER easy for you to make high quality videos that you can easily upload to YouTube or social media sites, etc. And all with just one cable and a few clicks.
If you connect your phone or tablet to the PSR E373's USB port, you can then use the Rec'N'Share app to record a video of you playing, and the audio will be very high quality because of the built in audio interface. Here is a quick video that I made using the Rec'N'Share app:
---
Yamaha PSR E373: The Other Features
Portability: One of the benefits of buying a keyboard without fully or semi weighted keys is portability. The PSR E373 only weighs 10 pounds (most digital pianos such as my Yamaha P-125 weigh 25-30 pounds). And since it only has 61 keys it is physically quite a bit smaller and easier to move around; and you can get by with a smaller and lighter stand as well (also easier to move around), so this is a big positive for a pianist looking for a portable option.
"Standard" Features: The PSR E373 has many standard features you see in almost all keyboards nowadays, such as a metronome, and the ability to transpose keys.
Lesson Function: There are 150 songs built into the Yamaha PSR E373 that have a corresponding song book that can be downloaded from Yamaha's website – the book and lesson function on the keyboard work hand in hand to help you learn these songs. It's great that the keyboard has a lesson function included, but as I mentioned at the start of the review, nowadays I personally think you're much better off either downloading a piano training app like flowkey, or looking into an online piano course like Piano in 21 Days, or The Piano Man Approach to get up and running learning this great instrument. I have reviews on flowkey and both of those online courses on my site here: Piano Course Reviews.
Speakers: The speakers on the Yamaha PSR E373 are 5 watts total (2.5 per side) so they are definitely intended for practice or playing in a small room. Although small, they do project well and are very clear good quality speakers. But if you want to use this keyboard to perform in any scenario other than possibly busking in a very "intimate" setting, you will need external amplification of some sort. Here is a quick video of how the speakers sound as being picked up by the built in mic on my iPhone:
---
The Other Choices
Keep in mind that since I am reviewing the PSR E373 as a portable option for pianists, my "other choices" won't necessarily be arranger keyboards, but other keyboards that would meet that portable piano option need.
Casiotone CTS-300: I recently reviewed this keyboard – check that out here if you like; it is also an arranger, and also has touch sensitive keys, but other than the action being a TINY bit heavier (and having a nice matte finish on the keys), and being SUPER portable (it's only 8 pounds, smaller physically than the Yamaha, and even has a carry handle) the Yamaha PSR E373 outshines it in every other area of comparison. The Yamaha has more and significantly better voices (the CTS-300 uses an older sound engine from Casio), it has more and better rhythms and a nicee user interface. That being said, the CTS-300 is about $70USD cheaper.
Yamaha PSR E273: This is the cheaper model in the PSR lineup, and I would not recommend this keyboard – it does not have the high end piano sample, it does not have touch sensitive keys, nor does it have a USB port so you cannot connect it to a device.
Yamaha Piagerro NP-12: I previously reviewed a "piano-focused keyboard" from Yamaha called the Yamaha Piaggero NP-32. That keyboard has a 61 key version, called the NP-12 that has a synth action similar to the CTS-300, and only has 10 sounds; the sounds are a bit higher quality than the Casio, but not as good as the PSR E373 (in particular the main piano sound), and it does offer layering, and a single track recording function, and also has a compatible app to help control settings. But the issue to me with the NP-12 is the price – it is the same price as the PSR E373, with a lesser piano sample and significantly fewer features (no rhythms or built in audio interface) – I would definitely recommend the PSR E373 over the NP-12.
Alesis Recital 61: The Alesis Recital 61 is an interesting option, especially if you're not needing arranger functionality. I recently reviewed the 88 key version of the Alesis Recital which is an entry level digital piano that has semi-weighted keys. They're still not the same as playing a weighted keyboard, but they are a lot closer than a synth action keyboard is. And while the 88 key Recital is a fair bit more expensive than the PSR E373, the 61 key version is about the same price. And the 61 key Recital has 10 voices compared to the 88 key version which only has 5 (the 61 key version also adds a notably missing strings patch the 88 does not have), also runs on batteries, has actual L/R line out ports (so you don't have to use the headphone jack to connect to external amps or PAs), and has 20 watt speakers, compared to 5 watts on the Yamaha PSR E373. So for busking or performing, you might be able to get away with just the onboard speakers now and then (although you will still sound much better out of an external amp). The sounds on the Alesis are ok and totally usable, but are nowhere near the quality of the PSR E373, so I think the big thing here is that the keybed is semi-weighted and at only 15 pounds, it's a portable option that won't be as big of an adjustment from a weighted key piano.
Casiotone CTS-1: This is a brand new (at the time of this review) keyboard from Casio that has a lot of potential as a portable option for pianists (judging from reviews I've seen thus far). Casio took a really interesting approach with this keyboard; it has no display, a very simple interface, no rhythms, and the newer sound chip so it has very high quality sounds, but Casio also included very well thought out effects that are pre-applied to these voices, as well as a lot of articulation samples that are triggered by how you play instead of pushing a button. And there are some very unique voices on this keyboard that don't exist on any other Casio, even the pricy ones. The keys are supposedly heavier than the CTS-300 with a semi-weighted feel. I really look forward to reviewing one of these.
---
Yamaha PSR E373: The Verdict
I really like this keyboard, and can definitely recommend it as a solid choice if you are a pianist looking for a portable option; it has some fantastic sounds (including a spectacular main piano, and some great electric piano and organ sounds), and tons of features like layering & splitting, tons of effects, only weighs 10 pounds and has a built in audio interface. And onboard rhythms are always handy to have available, even if you don't want to use the arranger functions. And if you are looking for a great inexpensive arranger keyboard, this is absolutely a great option.
What about busking / performing? Technically you can busk with a kazoo if you're entertaining and put on a good show, so in that regard, sure why not? That being said, you will probably need some external amplification because these speakers are simply not powerful enough, and you will face the challenge of only having 9 registrations for quick recall of your settings. That being said, if you are mostly playing piano and keyboard sounds and not using the arranger functions, 9 registrations could definitely be enough for you. And if you are considering this keyboard as a first instrument for a young one to test their potential interest in music before spending a bunch of money on something fancier, it should be a great option.
The only potential deal breaker with the Yamaha PSR E373 (in my opinion) is the non weighted light synth action. As I mentioned, with the touch sensitivity set to hard, I was able to get used to and quite enjoy the action, but it is definitely an adjustment. And when you're looking for something portable, non weighted keys means less weight so that's a tradeoff your back will be thanking you for if you end up moving it around alot. However, if the intention is to move into formal piano lessons, it IS REALLY important to remember that you should try to get something that has fully weighted keys, or you should be fully expecting to have to upgrade to something with fully weighted keys once the piano journey officially begins. The PSR E373 keys are fully sized, but synth action non weighted keys will NOT be appropriate for someone to exclusively practice traditional piano on. I have reviewed some really good entry level weighted key options as well that aren't crazy expensive if you want to check out the reviews on the Alesis Recital Pro and the iNovus i88.
So with all that in mind, I would definitely recommend the Yamaha PSR E373 if it fits in with your needs and budget. If you would like to check current prices for the Yamaha PSR E373 or any of the other keyboards I mentioned here, please click my appropriate affiliate link below to check that out. I've also included a link to a good generic sustain pedal that has a polarity switch.
Thanks so much, and happy piano playing! (and piano shopping 😉 )
---
I have included links below to Amazon so that you can check current pricing – please note that as an Amazon Associate I earn from qualifying purchases
---
Piano Training I Recommend
I've taken a number of online piano courses; the ones I'm listing here are my favorites and I can highly recommend any of these if you are looking for some online training to get started on learning piano, or to take your current skills to the next level.
This is a fantastic option if you are mostly interested in rock music. This course was created and is taught by Marine Lacoste, who is not only a fantastic instructor & pianist, but she is also a very accomplished hammond organ player – she performs regularly with her own band, as well as playing keys regularly for multiple recording artists on tour. I started this course in 2023 when I joined a band, and it is helping me greatly in taking my playing to a new level
If you sign up for Online Rock Lessons yearly subscription, use code PIANOTONE at checkout to let Marine know I referred you, and she will give you a free 20 minute orientation call!
This course is an amazing option for learning piano from beginner up to being able to perform; it teaches multiple genres of music and focuses on how to be a "one person band" on the piano. This course is taught by pro pianist Steve Lungrin – Steve has been teaching and performing his whole adult life and is a fantastic instructor and performer.
I took this course from 2020 to 2021 and it elevated my playing from a very basic level to being able to play songs in multiple genres.
Bird's Piano Academy (Beginner Blues):
If you like the blues, and (or) want to ramp up your improv/soloing abilities on the piano, this is a GREAT course. It's taught by Arthur Bird, who has a number of courses available on blues, jazz, as well as just getting started on piano. I found his beginner blues & improv course in 2022 when I "hit a wall" in my soloing abilities, and it really helped my improv and soloing in a big way.
If you're looking for the least expensive way to get started on piano, Pianoforall is a great option. It's a unique course created by Robin Hall that uses downloadable eBooks with embedded videos and audio instead of a website.
If you have any questions about my experience with the Yamaha PSR E373, please feel free to contact me!