This is my review on the Casiotone CTS-1 portable keyboard. Casio took a VERY unique approach with the CTS-1, I'm not sure another manufacturer has ever made a keyboard quite like this; I'll explain why in the review. I've been looking into portable options for piano players to have something to easily take to a friends house, or the park or to a low key band practice or even for small casual performances like busking, and the CTS-1 is definitely an option for that.
---
Casiotone CTS-1 Review – The Summary
The Keys
61 full sized box-shaped synth action keys with 4 levels of touch sensitivity (3 levels and off), simulated ivory/matte keytops and a "semi-weighted feel"
The Voices
61 voices (including multiple voices with pre-applied DSP effects, layers and player triggered articulation), 64 notes of polyphony, newer AiX sound chip
The Effects
24 types of reverb (including room types, plate and delays), 10 EQ presets
Connectivity
Headphone (1/8″), Audio in (1/8″), MIDI USB (micro-B) out, 1/4″ pedal input (no pedal included), USB port (only for use with optional BlueTooth adapter)
---
The Rest
simple and very intuitive button driven user interface
7 registration memory slots to save your voice setups, as well as a "My Setup" registration for loading a default setup of "global" settings
simple 1 track song recording
Metronome
Transpose up or down 12 steps, octave shift (+/- 3 octaves)
Layer with ability to adjust relative volumes, adjust sustain levels on each layer (even choose to only sustain one layer), and octave shift individual layers
5 watts speaker power (2.5 per side), with bass reflex speakers
Surround sound option (speakers only, not through headphone/audio out)
Battery option (6 x AA)
Pins to connect to a guitar strap
Compatible with Casio Chordana Play app
Available in black, red or white
---
Casiotone CTS-1 Review – The Details
User Interface
The user interface on the Casiotone CTS-1 is a very simple and intuitive button driven interface for selecting the most common tones, and easily saving / recalling registrations. There are 7 category buttons (Piano, Electric Piano 1, Electric Piano 2, Organ, Keyboard, Synth and Other) and then there is a variation button that toggles through the 4 variations for each category (Standard, Advanced, Modern and Vintage). So that gives you super easy access to the most common 28 voices (and the buttons are lit so it is easy to see what your current selection is). Then the "Tone Memory" button is how you quickly access 7 preset registrations (there is one assigned to each category).
While changing settings (layering, effects, transposing etc) and choosing less common voices does require looking up key combinations from the manual, I don't mind this too much. While it would be nice if the common settings had dedicated buttons, in my opinion, this keyboard's interface overall is fantastic; it is well thought out and is definitely focused on the player experience. If you take advantage of the 7 registrations for storing any "complicated" voice configurations, as well as the "My Setup" feature for storing global settings (like octave shift which I would use – more on that feature later), then you would be able to easily use this keyboard in a performance situation without having to "menu deep dive" like you have to do with many keyboards that have screens and supposedly "easier" user interfaces. I find the usability of this interface to be very similar to the button driven interface on my Yamaha P-125 piano (which I LOVE) – it is very easy and quick to select voices, and to see what your current selections are. Here is a quick video on the user interface: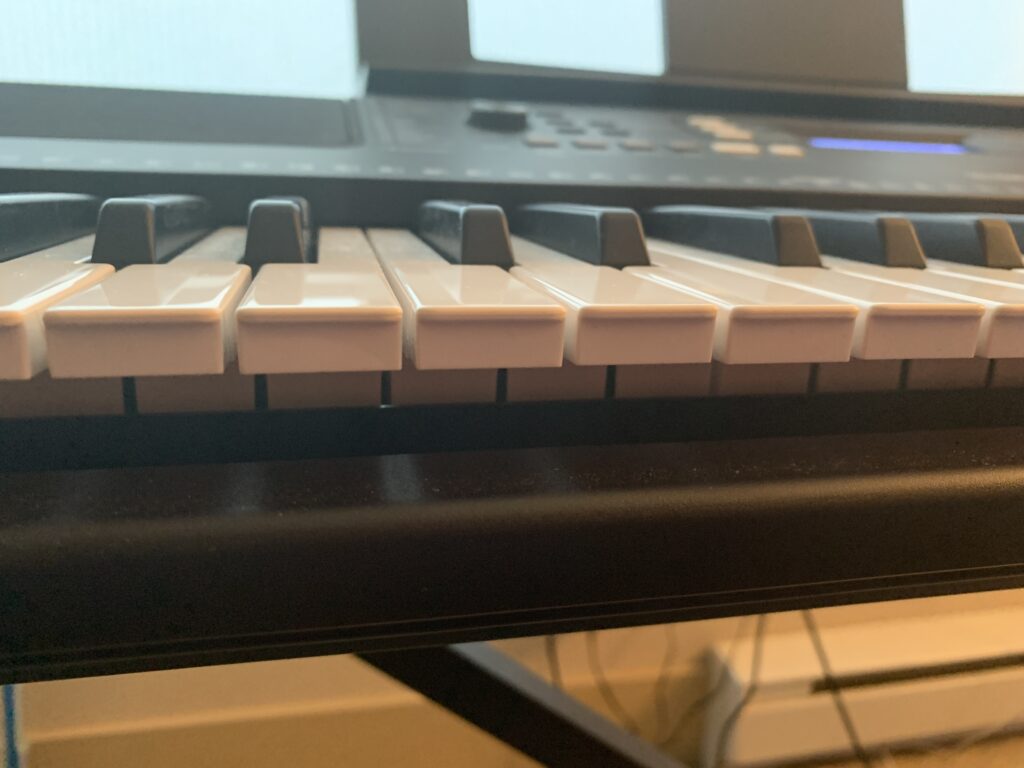 The Keys
The Casiotone CTS-1 has 61 full size "box style" (shaped like piano keys) synth action keys with 4 layers of touch sensitivity. The keys have a simulated ivory / matte texture on them, which I do prefer over shiny smooth keytops. There is also a felt dust filter behind the keys (common on more expensive digital pianos, but rarely seen on less expensive keyboards); this is a very nice touch since it limits dust getting into the keybed.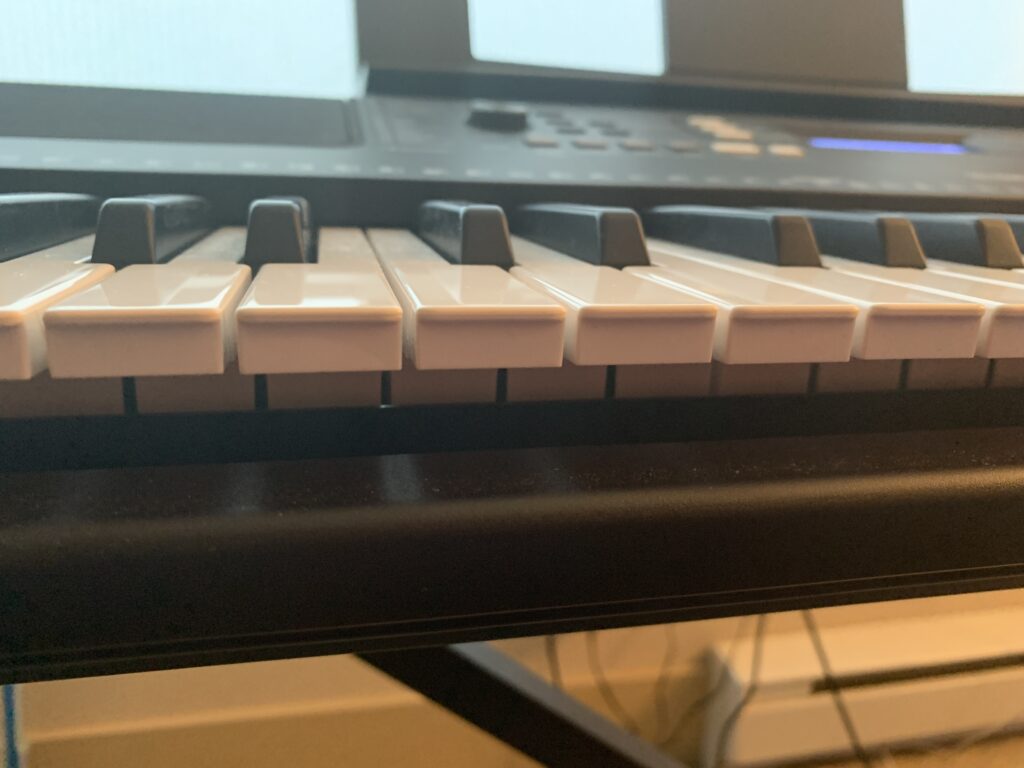 The keys on the Casiotone CTS-1 are not "officially" semi-weighted, but to me they sure feel like they are. They are definitely a heavier feel (with a much firmer & higher quality feel) than the keys on the Casiotone CTS-300, and to be honest they feel VERY similar to the semi-weighted keys on the Alesis Recital digital piano. The action on these keys is still in no way an accurate representation of fully weighted keys on a piano, but they are MUCH closer and more familiar feeling to me than any other synth action keys I have tried. So for a portable option for a piano player accustomed to weighted keys, I think this keyboard is a great balance of portability (with lower weight from non weighted keys) with a heavier than normal and very responsive synth action.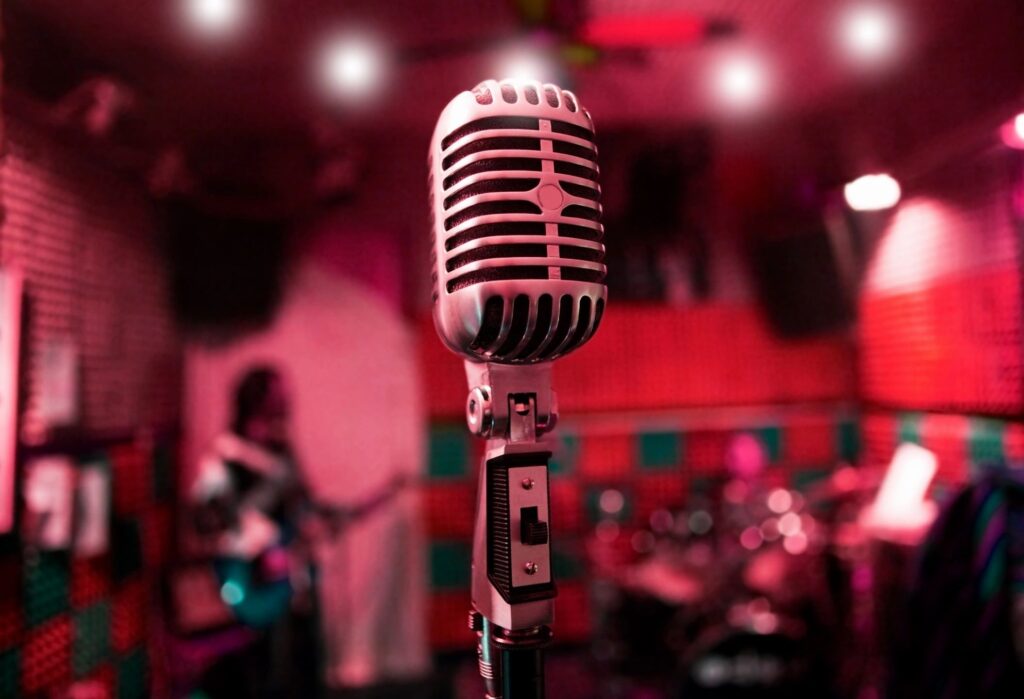 The Voices
There are 61 voices on the Casiotone CTS-1. Included in those are 12 tones brought forward from "classic" Casio keyboards from the 1980's. While those 12 can be nostalgic and fun to play around with, it basically means that the CTS-1 really has 49 usable voices. Now with that being said, in my opinion the main voices on the CTS-1 are nothing short of spectacular, especially for the price point. Here is a list of all 61 voices:
I mentioned in the introduction that Casio took a unique approach with this keyboard, and much of that has to do with the types of voices they chose to include, and with how they implemented these voices. The types of voices included are very "keyboard player centric" – very few of the voices on the CTS-1 are not from some type of a keyboard instrument. And the CTS-1 has the newer AiX sound chip from Casio, which is a massive upgrade from the older sound chip used on the Casiotone CTS-300 (you will also find the AiX chip on the Casio CTX series: CTX-700, CTX-3000 & CTX-5000). So the sound samples are already very high quality, but Casio did not stop there – instead of including a bunch of effects that users have access to so they can deep dive menus and modify sounds on their own, Casio pre-applied different DSP effects (and EXTREMELY well I must say) to almost every one of the sounds on the CTS-1. Then on top of that, Casio modified 3 voices to take advantage of "Advanced Layering"; on these voices (Piano Pad, Magni-Synth Pad & Guitar Pad) there is a pad layer that is only activated when you hold down 3 notes. This is a VERY cool feature; it allows the player to control when the pad comes in while they play!
So if you are the type of player who likes to deep dive into menus and effects and spend lots of time on customizing your sounds, then you might not like that Casio did this for you on the CTS-1; for me, this is an absolute delight – I just want to turn my keyboard on and have great sounds readily available; I am not likely to spend tons of time deep diving into menus to modify my sounds. Keep in mind as well, that although you cannot customize your voices with DSP effects, there are quite a few reverb and EQ options for you to choose from (I'll go over those in the "Effects" section). Here is a video on the main 28 panel sounds (as well as one extra – the piano/bass pre-split), including the "Advanced Layer" sounds:
The voices on the CTS-1 can be layered, but not split; while I do wish that this keyboard had the ability to split voices, there is an included pre-split bass and piano that is totally usable that I demo'd in the last video (and this would be the split voice combination I would personally use 90% of the time).
Before I talk about layering, this is a good time to talk about the auto sustain – the CTS-1 has an option to have notes sustain without the use of a pedal, and there are some well thought out features here. With this sustain enabled, you can control how long the notes sustain for after being released, AND you can do that separately for each of the parts if you are layering voices which is really cool – for example, with piano over strings you could set the sustain on the piano to be longer than the strings. So when I saw that I was hoping that it would also function the same way with the pedal instead of the auto sustain, but it does not. But don't fear, there is a similar setting for use with the pedal where you can specify whether the pedal will or will not apply sustain to each of the layered voices. And a great additional layering feature on the CTS-1 is that you can not only adjust the relative volumes between the voices, but you can also octave shift one of the layered voices Here is a video on setting up a layered voice:
For selecting the 33 voices that are not among the 28 voices selectable by buttons, you will need to look up the correct key combination in the manual. Every one of the 61 voices on this keyboard (including the ones that are accessible with the buttons) are accessible with a key combination by holding down "Tone Variation" and pressing a key – a very nice touch here though (thanks Casio!) is that instead of nothing or a beep or something when you choose a sound this way, you actually get a preview of the selected sound when you press the key (so for choosing voices, maybe you can get away without the manual ;).
---
The Effects
While the Casiotone CTS-1 does not provide access to the DSP effects that are already used on almost all of the voices, it does offer a wide selection of 24 reverb options, as well as 10 EQ presets.
There are too many combinations here to demonstrate, but there are lots of fun options and combination here for you to test out to customize and enhance your sounds.
Registrations
The Casiotone CTS-1 has the ability to save up to 7 registrations ("Tone Memory") so you can save your current settings (voice, layer settings, reverb & EQ settings) for quick and easy recall. This is done by saving your current settings to the "Tone Memory" choice in the "Tone Variation" section. So, you can store 1 registration in each of the 7 main voice categories for quick recall. While its always preferable to have as many registrations as possible, since this isn't an arranger keyboard with tons of extra things to memorize like rhythms, tempos etc, 7 registrations is pretty good when you only need to memorize unusual voice setups.
A real nice feature that Casio brought forward from the Casiotone CTS-300 is the "My Setup" feature. On the CTS-300, "My Setup" functions as the only registration bank available; but the really nice thing here is that you can specify that the keyboard will load your "My Setup" every time you turn it on. This is SUPER useful, because while you can use it as an 8th registration (voices, etc) the better use (in my opinion) is to load "global" settings that you might want to use on any voice. For example, on a 61 key keyboard, I always want to shift the octave down 1 – so if I include that in the My Setup, then I don't have to manually do this every time. This was something I found frustrating on the Yamaha PSR E373; you could switch octaves on that as well (and it's a bit of a menu "deep dive"), but as soon as you switch voices, you lose that setting and have to do it again. While I do love this feature I did find one minor issue with it that I would love to see addressed in the future – let's say there is 1 song that I prefer NOT to have the octave shifted on – I tried storing that voice (without the octave shift) in one of the memory slots, but the octave shift doesn't get saved – however I found a cool workaround – you CAN save part octave shifts for layers in tone memory! So all I did was layer my voice I wanted with a similar voice, and now that works perfectly; I can switch to that voice in "Tone Memory" and the octave goes back to normal (no shift) and then when I switch to any other voice, it goes back down to the octave -1 shift I specified in "My Setup"!
Here is a quick video on saving registrations to Tone Memory, and on using the My Setup feature:
---
Connectivity
For connectivity, there is a 1/4″ port for a sustain pedal (pedal is not included), a 1/8″ headphone port that you could also use with a splitter cable to go to external speakers, or an audio interface, PA etc. There is a USB to device port (Micro-B) so you can connect the CTS-1 to a pc or tablet to transfer MIDI data and use MIDI compatible apps like GarageBand, flowkey, Chordana Play etc. There is a handy 1/8″ audio in so you can connect an external sound source like an iPad to stream audio from (so you can play along with YouTube, music files etc).
There is also a "normal" USB (type A) port, but don't get too excited – this port is only for using the optional BlueTooth adapter:
With the optional WU-BT10 Bluetooth MIDI/Audio adapter connected to the USB type A port on the CTS-1, you can stream music to your keyboard wirelessly (instead of using the audio in port), and you can wirelessly transmit MIDI data. I don't have this adapter, so I can't test it or offer an opinion on it.
---
Casiotone CTS-1: The Other Features
Portability: One of the benefits of buying a keyboard without fully or semi weighted keys is portability. The Casiotone CTS-1 is SUPER portable. It is not only very light (only 10 pounds – most digital pianos such as my Yamaha P-125 weigh 25-30 pounds) but it has an extremely slim and narrow profile (36.61″ x 10.15″ x 3.30″ – the Yamaha PSR E373 is an inch longer, an inch thicker and FOUR inches deeper!), can run on AA batteries, and it even has a carry handle AND pins on the back that you can attach a standard guitar strap to. It really doesn't get much more portable than this, and since the key action has an almost semi-weighted feel, it's amazing that the weight is still only 10 pounds (the Alesis Recital 61 with similar feeling semi-weighted keys weighs 15 pounds).
"Standard" Features: The CTS-1 also has many standard features you see in almost all keyboards nowadays, such as a metronome, and the ability to transpose keys.
Single Song Recorder: The Casiotone CTS-1 has a super simple single track, single song recorder function that has quick and easy access with buttons. This isn't meant to be used as a method to record a song to share with others (you cannot transfer this off the keyboard), but simply as a quick and easy way to capture an idea, without needing to be connected to a device with recording software. For actual song recording, you will want to connect to a device with recording software such as GarageBand on an iPad, either using the micro-USB port to transmit MIDI data, or the headphone port with a splitter cable to an audio interface, and then in turn to your recording device to transmit audio data. Here is a quick video on the song recorder:
Speakers: The speakers on the Casiotone CTS-1 are 5 watts total (2.5 per side) so they are definitely intended for practice or playing in a small room. They are the same size as the speakers on the Casiotone CTS-300 (with 1 additional watt of power) and the same wattage as the speakers on the Yamaha PSR E373, BUT there are two big upgrades here. First, the speakers on the CTS-1 are "Horizonal Bass Reflex" speakers (in very simple terms, this means they use a physical port/vent in the container to increase the efficiency and improve the low end sound); all I can say is to me they sound FAR superior to the speakers on the CTS-300, and they definitely sound better than the speakers on the PSR E373. Second, the Casiotone CTS-1 has a "Surround" feature; when you engage this with the button on the keyboard, a noticeable surround sound will improve the speaker sound even more. Note that this only works through the speakers; the surround feature does not work through the headphone/audio out port. Although small, these speakers are surprisingly nice to listen to – they project well and are very clear. But if you want to use this keyboard to perform in any scenario other than possibly busking in a very "intimate" setting, you will need external amplification of some sort.
Here is a quick video of how the speakers sound as being picked up by the built in mic on my iPhone (I will demo this with and without the Surround feature):
Chordana Play: You can connect the CTS-1 to the free Casio Chordana Play app on your device, which has the ability to "teach" you to play songs using the "falling note" Synthesia style interface, which some people really like, but I am definitely not a fan of learning music or songs this way. It's a great tool for a piano instructor to demonstrate something to you, but beyond that, to me it is a hand coordination video game and isn't really teaching you much of value, it's just helping you memorize how to play a song. That being said, if your goal is "fun" as opposed to learning how to play, then that's great and enjoy. There are a bunch of built in songs you can play along with and it allows you to import MIDI files for other songs into the same interface which is cool.
One thing that is noticeably missing from the Chordana Play app that I noticed when reviewing the CTS-300 is the ability to control settings on your keyboard. Any of the other pianos or keyboards that I have used that have compatible apps always include some level of keyboard control (graphical interface for changing voices and settings etc). The Chordana Play for Piano app that works with Casio digital pianos I believe has that ability, but the regular Chordana Play app for keyboards does not. That being said, the user interface on the CTS-1 is so simple that's not a huge issue with this keyboard anyways. I'm not going to bother demonstrating Chordana Play, since it doesn't have any specific functionality with the CTS-1; and, there are tons of in-depth demos out there.
If you are looking for an app or a course to get started on learning piano, I would highly recommend checking out either the flowkey app (there is a free version with limited functionality you can check out by following my affiliate link below), or one of the online courses I took and had tons of success with: Piano in 21 Days or The Piano Man Approach.
---
The Other Choices
---
Casiotone CTS-1: The Verdict
I LOVE this keyboard (that's why I bought it!) – it's almost like Casio read my mind and tried to make the ideal portable keyboard for me. So I can enthusiastically recommend the Casiotone CTS-1 not only as a great portable option for a pianist, but just as a great keyboard in general. It has some fantastic sounds from the newer AiX chip, most of which are improved even further with well implemented DSP effects, it has very unique sounds not included on any other Casio product, the advanced layer voices with pads triggered by the player are super cool, and the user interface is dead simple and fast to use. And on top of all of that, the action feels semi-weighted and is very solid to play – all of that in a super slim design that only weighs 10 pounds, and even has a carry handle and pins for a guitar strap!
What about busking / performing? As I've said in prior reviews, you can busk with a kazoo if you're entertaining and put on a good show, so in that regard, sure why not? That being said, you will probably need some external amplification because while these bass reflex speakers sound great, they are simply not powerful enough. The user interface is super easy, fast and intuitive to change main voices quickly (and to see what your current choice is), and given that this isn't an arranger keyboard, having 7 registrations in addition to the My Setup functionality should be plenty to recall more complex voice setups quickly. And having an audio in will make it easy for you to stream backing tracks to play along with.
The only potential deal breaker with the Casiotone CTS-1 (for a pianist) is that the keys are not fully weighted. But when you're looking for something portable, non weighted keys means less weight so that's a tradeoff your back will be thanking you for if you end up moving it around alot; and as I've mentioned in the review, the keys on the CTS-1 do have a semi-weighted feel that I find much nicer to play and more familiar than most other synth action keyboards. However, if the intention is to move into formal piano lessons, it IS REALLY important to remember that you should try to get something right from the start that has fully weighted keys, or you should be fully expecting to have to upgrade to something with fully weighted keys once the piano journey really takes off. The CTS-1 keys are fully sized, they're box shaped like piano keys are, and they do have a "heavier" feel than most synth action keys, but even semi-weighted keys will NOT be appropriate for someone who is taking traditional piano lessons on an acoustic piano. I have reviewed some really good entry level weighted key options as well that aren't crazy expensive if you want to check out the reviews on the Alesis Recital Pro and the iNovus i88.
As far as anything that I wish Casio could have included in the CTS-1 that wasn't? I mentioned earlier that it was like Casio read my mind when making the CTS-1, but if you're reading this Casio: make a 76 key version with bigger speakers, and L/R line out ports (and an audio interface built into the USB port), charge $150-$200 more, and you will sell them like crazy (including one to me that might even take the place of my Yamaha P-125!).
So with all that in mind, I would definitely recommend the Casiotone CTS-1 if it fits in with your needs and budget. If you would like to check current prices for the Casiotone CTS-1 or any of the other keyboards I mentioned here, please click my appropriate affiliate link below to check that out. I've also included a link to a good generic sustain pedal that has a polarity switch.
Thanks so much, and happy piano playing! (and piano shopping 😉 )
---
I have included links below to Amazon so that you can check current pricing – please note that as an Amazon Associate I earn from qualifying purchases
---
If you have any questions about my experience with the Casiotone CTS-1 please feel free to contact me!