This is my initial reaction/summary review on by far the coolest instrument I have EVER owned – my new Yamaha DGX-670 digital piano. Because this piano has SO MANY features to go over, this written review will be an overview, as is my YouTube video version of this written review. What I've typically done in the past for YouTube reviews for pianos or keyboards that have TONS of features is a shorter summary review, followed by an in depth review; some of which crept up to . . . or over an hour long.
Well, the DGX-670 has SO MANY features to talk about (not to mention features that will take me a long time to learn), that an in-depth video review would be WAY too long for you guys to endure watching, and way too long for me to try and make. So I've done this initial reaction / summary review to just basically go over all of this keyboard's amazing features, and then as I learn how to actually USE all of these features, I will be releasing multiple shorter, more detailed how-to/review videos on my YouTube channel on a feature by feature basis; as I release those on YouTube, I will add links to them here at the bottom of this page.
So, let's check out the Yamaha DGX-670!
---
Yamaha DGX Line Of Pianos
So just like prior versions of the DGX-670, it is still a fully weighted hammer action digital piano with good quality digital piano samples, that also has arranger keyboard features as well as a large number of additional sounds from other instruments commonly found on arrangers . . . BUT . . . the prior versions of the DGX had very BASIC arranger features, so it was like a digital piano that was merged with the entry level PSR-E series arranger keyboards, which only have basic arranger features. And there were rarely any significant upgrades from one DGX version to the next.
Well – that changed BIG TIME with the DGX-670. This model is a MASSIVE upgrade from the DGX-660, and the improvements have been significant in almost EVERY SINGLE area, even including build quality. The DGX-670 is now basically a hybrid of the Yamaha P-125 digital piano only with significantly improved piano samples, and the PRO series of Yamaha arranger keyboards, the SX series, which have SIGNIFICANTLY better arranger features than the E series, and it even has some features previously only found on much more expensive Yamaha Clavinovas thrown in.
The Keys
The DGX-670 has 88, fully weighted, graded hammer action keys; this is Yamaha's tried and true GHS dual sensor action, which has been around for awhile, and for good reason – it's awesome; this is the same action as on the P-125, and is one of my favorite actions EVER – it's smooth and easy to play, and it's very responsive.
It is definitely a lighter and faster action the Roland's triple sensor PHA4 action, which I find to be a bit too heavy, and a bit sluggish on the way back up. While I do wish Yamaha would put a matte finish on the white keys as well as the black keys, it's still realistic and it's fantastic to play!
While I often read or hear online of people criticizing Yamaha for not updating this action, and how it is not a good of an action as newer triple sensor or "smart" dual sensor actions – I also NEVER seem to hear any significant complaints about the durability or quality of the GHS action – in contrast, I DO hear about common issues involving key noise, clicking, or keys failing altogether with many of these newer "better" actions; if it's not broken . . . DON'T FIX IT!
The Voices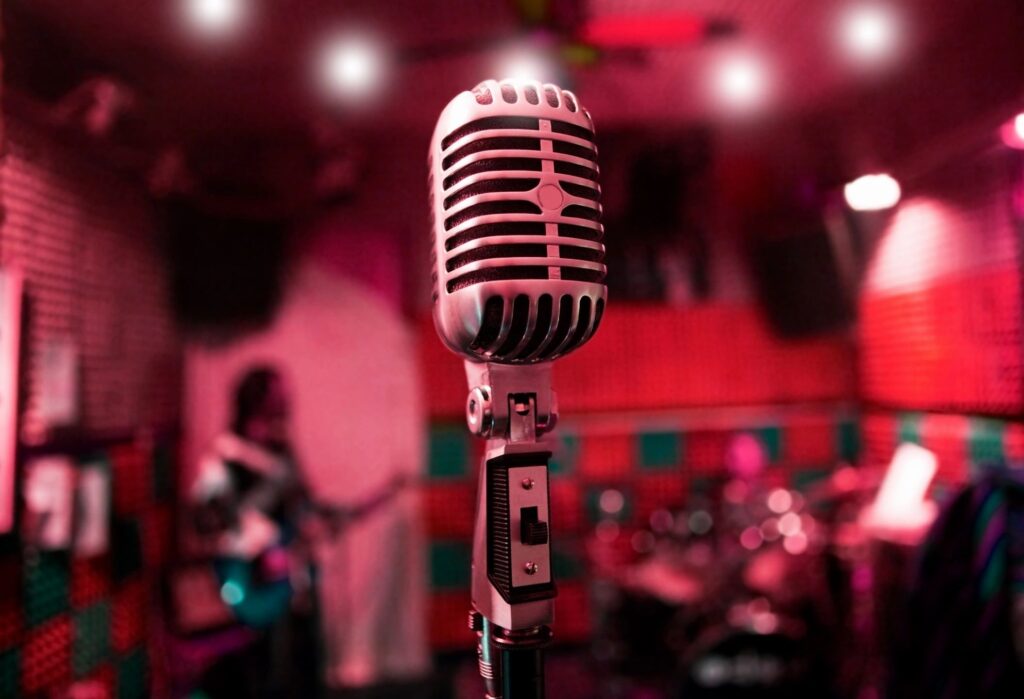 The DGX-670 has 601 Voices + 29 Drum / SFX Kits, and a whopping 256 notes of polyphony! The voice list includes 9 "VRM Voices" – these are different piano samples that are SIGNIFICANTLY enhanced with Yamaha's Virtual Resonance Modeling – while some digital pianos will include some type of "resonance" features like string resonance, damper resonance etc that can be "turned on or off" – these are like "snapshots" of resonance; with Yamaha's VRM, these voices actually re-create multiple different types of natural piano resonance as you play, based on how and what you are playing – and it's easy to see how much the VRM improves the sounds, because the first bank of voices you see in the menu are these 9 voices; the second bank are the SAME 9 voices, but without VRM enabled – I'll try to include a couple of comparisons in the voice demo.
While I really like all 9 of these voices, there are a few I absolutely LOVE: one of which is the main flagship piano voice, sampled from Yamaha's CFX Grand – for about a year, I owned (and absolutely loved the main piano voice on) a Yamaha P-125; but the CFX Grand sample on the DGX is a massive upgrade on the CF Grand used on the P-125. The other voices I am really enjoying so far are the Pop & Studio Grands which can cut thru a mix a bit better on some songs than the CFX does, & I love the Rock Piano, which sounds fantastic on a lot of the 50's rock and blues I like to play.
Here is a demo on the 9 VRM voices, as well as a brief comparison of the main CFX Grand voice with and without VRM modeling applied.
So in addition to those 9 VRM voices, there are Yamaha's enhanced banks of voices (originating on their MUCH more expensive retired Tyros keyboards): 23 MegaVoices, 11 Natural! Voices, 26 Sweet! Voices, 53 Cool! Voices and 68 Live! Voices. And there are also 49 Super Articulation voices (which trigger different samples based on how you play, or some can also be triggered with a pedal). The super articulation voices on my Yamaha PSR-EW425 keyboard are pretty cool, but these ones are a whole different LEVEL of cool. Things like fret squeaks, slides or hammer-ons on an acoustic guitar, breath noises on a wind instrument, or tapping the body of an acoustic guitar. I'll try to demo some of these as well.
And, you can (of course) layer and split voices on the DGX, and you can also adjust various parameters for each (relative volumes, response to sustain pedal, that kind of thing). Here is a demo of some other voices.
Effects
I thought there was a crazy amount of effects on my PSR-EW425 keyboard, but even it pales in comparison to the DGX-670:
Reverb: 58 Preset + 30 User
Chorus: 106 Preset + 30 User
DSP: 295 Preset + 30 User
Master Compressor: 5 Preset + 30 User
Master EQ: 5 Preset + 30 User
Part EQ: 27 Parts
Intelligent Acoustic Control (IAC): Yes
Stereophonic Optimizer: Yes
If you've checked out other reviews of mine, you've probably figured out I'm not a specialist on effects, and there is simply so much here that I'm not going to demo any of these in my initial review, but rest assured – if effects and tweaking your sounds is something you're into? YOU WILL LOVE THIS PIANO!
As I add more detailed videos to my YouTube channel on the DGX-670, I may include a more in-depth discussion of the effects
Connectivity
---
The front panel on the DGX-670 has a USB flash drive port (SUPER handy having this easily accessible on the front instead of on the back).
The rear panel on the Yamaha DGX-670 includes:
a proprietary input for Yamaha's LP-1 triple pedal unit (note that this pedal unit DOES require purchasing the custom stand for the DGX, which is the L-300 stand). Added features if you DO get this pedal (in addition to having a soft, sostenudo & sustain pedal that supports half pedaling), is that you can assign pedals to FIFTY functions:

Triggering additional super articulation effects on super articulation voices (over and above the effects you can trigger with your playing and dynamics)
Tons of rhythm & accompaniment functions, like enabling or disabling advanced accompaniment features like UNISON as you play, starting and stopping rhythms, accompaniment parts, and the list goes on
You can use the pedals for turning pages on musical scores or lyrics displayed on the screen, etc (there are MANY more)
NOTE: I DID buy the L-300 stand, and the LP-1 triple pedal unit (I love them by the way, TOTALLY worth it); there is a link to a video on the build and my thoughts at the bottom of this page)
¼" generic sustain pedal input (the DGX comes with a basic brick switch pedal); if you're not getting the triple pedal unit, then you really should upgrade this to either a generic sustain pedal with a polarity switch, or to Yamaha's FC3A pedal which is compatible with half pedaling
1/8" stereo audio input for audio streaming from a device like an iPad so you can play along with backing tracks, YouTube videos, listen to your online piano lessons through your speakers or headphones etc.
the DGX is also BlueTooth enabled, so you can also stream audio to the DGX wirelessly using BlueTooth instead of the aux in jack; note that there is no BlueTooth MIDI on the DGX – which is fine by me, since BlueTooth MIDI tends to be very laggy; I've been using the BlueTooth audio in since I got the DGX, and it's been working extremely well with my iPad – the connection never drops and almost never has to be re-paired
there is a ¼" mic input for connecting a dynamic mic for talking or singing (there is no phantom power so you can't connect a condenser mic, but a condenser is too sensitive to use while playing a digital piano anyways), and there is a pretty robust effects section dedicated just to the mic, as well as the ability to flip the effects on and off for talking vs. singing; note that the mic signal does get included in any audio output from the DGX; the speakers, the headphone out, the USB to host port sending audio to a device, as well as audio recordings made to the USB flash drive
¼" stereo headphone out, which doubles as your line out for connecting to external audio equipment like audio interfaces for recording audio, or for amps or PA systems for playing live – now I would have preferred to see proper L/R line outs, instead of a less clean, amplified headphone out, but . . . after having thought it through I realized I'd probably never use the line outs ANYWAYS; as a result I'm totally ok with this on the DGX-670 for a couple of reasons:

L/R line outs are definitely preferred over a headphone out for performing live, but . . . even though the DGX-670 is called a "Portable Grand"? At a staggering 50LBS and a pretty large and bulky shape, I'll likely NEVER use this piano to perform, so . . . not really an issue
L/R line outs are ALSO definitely preferred over a headphone port for recording audio through an audio interface into your DAW – BUT . . . the DGX 670 has 2 options for recording audio that quite frankly – are better anyways:

Option 1: you can record CD quality audio direct to a flash drive, which you can then just pop out and copy it wherever you like, including into a DAW on your tablet or pc
Option 2: Like some other Yamaha keyboards and pianos, the DGX-670 has an audio interface BUILT INTO THE USB TO HOST PORT! This is a MASSIVE feature; this means that this port not only transmits MIDI data, but also AUDIO – so you can record cd quality audio DIRECT into a DAW on a device like GarageBand on an iPad JUST with a USB cable!
And the other huge benefit of this is that you can connect your DGX670 directly to your phone and use a generic camera app to make a performance video playing the piano that will use the cd quality direct audio coming through the USB cable instead of the device's built in mic! And both of these things can be done without the need for an external audio interface!
User Interface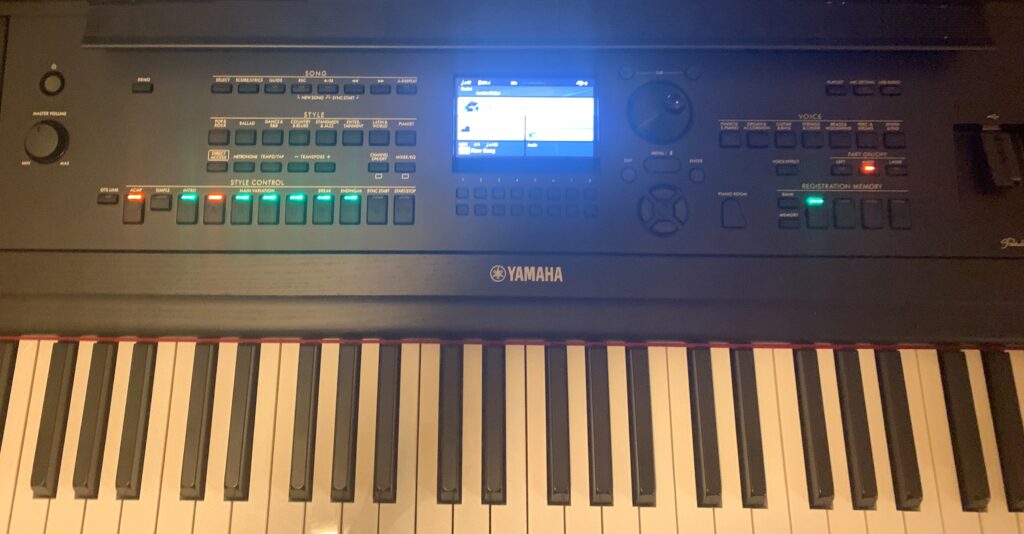 OMG this user interface is SO fantastic!
I mentioned in a recent review that I'm pretty much done with keyboards or digital pianos that don't have a screen, and that make you memorize or look up function key combinations to choose voices, change settings etc.
Well this user interface has now even topped my favorite user interface up until now, which was on the Korg EK-50 entertainer keyboard. The UI on the DGX 670 can be a bit overwhelming at first, because there are SO many buttons and dials, but once you get a general sense of how it works? It is insanely easy to find the setting you're looking for, and then it's equally easy to change your setting.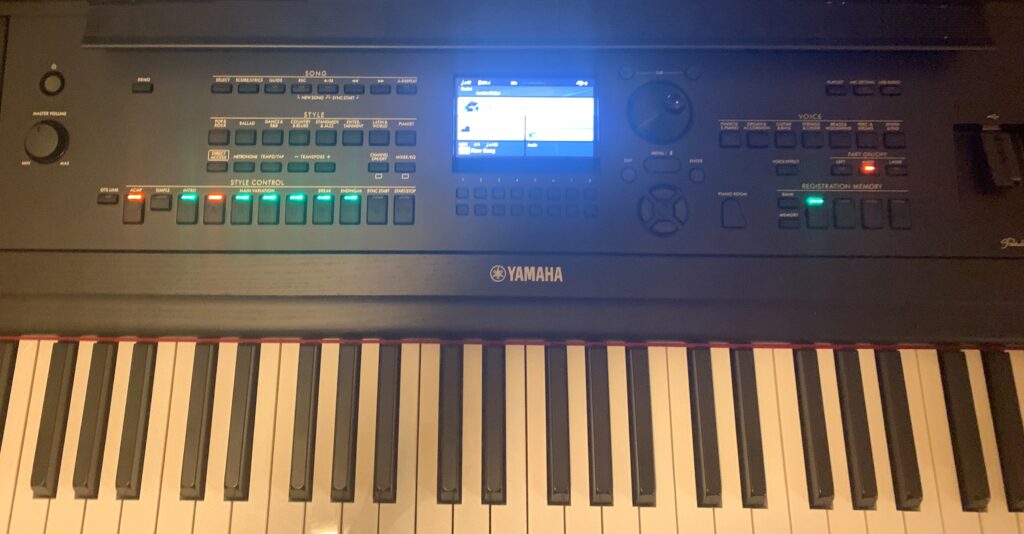 At first glance, I was impressed at the UI simply because of the beautiful full colour screen that's super easy to read from any angle, and that there are TONS of good quality, tactile buttons that give you clear direct access to common things as opposed to the "minimalist" and quite frankly, annoying user interfaces on many pianos nowadays; BUT . . shortly after starting to use the DGX, I found that there are a BUNCH of VERY helpful user interface "extra features" built in that enhance the ease of use even MORE.
"DIRECT ACCESS" button – so if you press this button and then press any other button on the keyboard – it will take you to the menu section that is most relevant to the button you pressed – THIS IS GENIUS! For example, if I want to edit style settings I can press DIRECT ACCESS then any of the style categories and it takes me to the appropriate menu – this works for any button on the keyboard (even if you press a PEDAL – it will take you to the pedal config screen); this is a fantastic feature because it gives you an easy, intuitive way to get where you want to go instead of having to memorize how to access something through a deeply nested menu system
Another great feature are the 2 rows of un-labelled buttons underneath the menu screen – what these buttons control changes depending on whatever is currently displayed on the menu screen – so for example if I go to the voice section, these buttons will become shortcuts to each page of voices; if I go to the mixer, they become buttons for adjusting whatever the current highlighted mixer setting is
There are multiple ways to scroll through available choices – you can use the wheel, or the cursor keys (scroll through voices using both)
And, for menus that have multiple pages, there are convenient dedicated page up and down buttons
Now I've only had the DGX for a couple weeks, but I'm already finding the navigation super easy – which is good, because with all these features – it needs a great user interface!
And another thing to mention regarding the user interface is the Piano Room feature – this is actually borrowed from the Yamaha Clavinova pianos:
If you just want to play piano, and not be distracted by all these features, buttons and lights – press the piano room button and most of the keyboard goes dark; you will have a limited selection of the best piano and electric piano instruments, and a visual interface allowing you to edit the environment they are being played in (so open and close the lid of a grand piano, play in different room types which basically changes the reverb etc)
And you also have a very simplified way to record your playing in here, so if you're not ready to start learning how to use all the features of the 16 track sequencer, you can just come in here and press record – nice and easy!
Rhythms & Accompaniment
I'll try to be as concise as I can here, because I could make an hour long video or a massive text review on JUST the rhythms and accompaniment on this keyboard and barely scratch the surface of all it can do. There are 263 rhythm styles, categorized into 215 Pro Styles, 19 Session Styles, 29 Pianist Styles, and there is a one touch setting, which will select voices FOR you based on the style you choose.
Now I've never owned or even used a "pro" level arranger like the Yamaha SX series; my experience has been limited to entry to mid level arrangers like my Yamaha PSR-E373 & PSR-EW425, but WOW – WHAT A DIFFERENCE!
Here are some of the things I'm talking about:
There are FOUR variations for each style (I'm used to only 2)
You can add a fill WITHOUT having to switch variations (on my E series, a fill means . . . switching variations); and you can also specify whether you automatically get a fill WHEN switching variations
You can add breaks
There are 3 options for intros and endings that go from short and "not busy" to "long and busy"; the short option, which from what I've seen so far is just a 1 measure count in, is SO nice to have – the intros on the E series can be . . . kind of painfully long
Instead of only having 2 chord fingering options for triggering accompaniment chord changes found on entry level Yamaha arrangers, there are EIGHT options: Single Finger, Fingered, Fingered On Bass, Multi Finger, AI Fingered, Full Keyboard, AI Full Keyboard and Smart Chord; while arranger keyboard players will be thrilled to see all of these options, if you're more of a piano player than an arranger keyboard player (which describes ME), and you like being able to HEAR what your left hand is actually playing? then you will be THRILLED that the DGX-670 has 2 options for "Full Keyboard"; this allows you to play with both hands the way you would normally play on a piano, and have the accompaniment follow you by detecting what you are playing on all 88 keys instead of just the left half. This is HUGE for me and it works super well
There are some additional SPECIAL styles as well:

Adaptive Styles – these are SUPER cool; basically the style will change variations AUTOMATICALLY BASED ON YOUR PLAYING COMPLEXITY DYNAMICS! This can take some practice to use, but when you get it – it's VERY cool; the trick is you really need to be in control of your dynamics and how complex your playing is, and you need to be able to time those changes correctly – basically in advance of when you want the variation to change up or down in intensity
Unison Styles w/Accent – with a Unison style, if Unison is turned on, ALL the other instruments will play exactly what you play! This can also be SUPER cool. And even better, instead of having ALL the instruments play exactly what you play, you can split that so instruments that play in the bass range (like a bass guitar etc) will play what your LEFT hand plays, and the other instruments will play what your RIGHT hand plays! I play a lot of walking bass lines in my left hand – sometimes I use a bass voice coupled with piano or organ, and sometimes I just use all piano. But what I've found is that with a split unison style, bass combined with piano sounds SUPER cool!
Accent – And the other cool feature with Unison styles is the "accent" feature; with this, if you have it enabled and play with heavy enough dynamics, you will get cymbal crashes as well! And the weight you need to play with is even configurable in the menu!

And to top all of these amazing features off – YOU CAN EDIT EXISTING STYLES, or CREATE YOUR OWN STYLES from scratch on the DGX-670! Now I haven't even looked into this yet so I can't say too much about it, but where I could possibly see myself using this wouldn't be to go to the work of creating a style from scratch but . . . how many times on an arranger keyboard have you found a style that is perfect for your song except for one little thing? Well if you have the ability to edit that style and fix that one little thing – THAT'S A HUGE FEATURE!
16 Track Onboard MIDI Recorder
If you follow my channel, you probably know that I'm big into playing along with backing tracks; I've made tracks on my own using BIAB and GarageBand, I've purchased tracks from Jamzone, and I also recently recorded a backing track for "Let It Be" using my PSR-EW425 keyboard's 6 track recorder with limited editing.
I haven't actually spent much time yet with the DGX's 16 track recorder, but I definitely will be; I'm super excited about giving this a try to create my own backing tracks, mostly because:
It has 16 tracks vs the 6 on my E series keyboard
It has punch in and punch out; so basically I can record or overdub small sections of a track if I want; let's say I changed my mind about what I wanted to do in a certain measure, or, more likely, maybe I made a mistake – this means I don't have to re-record the entire track start to finish
And I'm super pumped about being able to take advantage of the more advanced rhythms features to make the process of creating backing tracks way easier – things like the adaptive styles, and shorter intros and endings.
Now I don't use sheet music myself, but if you can sight read and you do like to use sheet music – you'll be able to see & play along with the score for your recording on the menu screen which is super cool; what's even better for ME though, is you can also toggle between the notation and a chord/lyric sheet!
100 Built In Songs
There are 100 built in songs that you can play along with if you like; you can also play along with SMF (Standard MIDI file) songs stored on a USB flash drive.
Just like the MIDI recordings you make on your own, notation can also be shown as you play along with the built in songs. And there is also a GUIDE training mode available, where you can have the song wait for you to play the correct notes before it moves on
Audio Recordings
You can record and playback audio files using a USB flash drive; which connects nice and conveniently in the front by the way instead of the back like on many other keyboards. When you record an audio file, it will include ALL audio produced by the keyboard including rhythms and accompaniment as well as vocals through the built in mic port; the result is a cd quality WAV file you can then easily copy to a device to use or work with further.
Registration Memory
The Yamaha DGX-670 allows you to save your current setup to a registration; there are 4 registrations available within a registration "bank"; these are quick and easy to call up using the 4 registration buttons – and there are UNLIMITED BANKS available because once the built in memory is full, they get stored on a USB stick!
And what's even cooler than that, is you can name your banks! So this way, you can name your bank with a song name for example, and then easily find and recall it – and, if for that song you wanted multiple setups quickly available, you'll have quick access to up to 4.
Speakers
For speakers, I wasn't expecting much when I first got my DGX because I knew the total wattage was only 12 watts, which is half of the wattage I have on my PSR-EW425 keyboard which has 24. But WOW was I surprised! These are easily the best sounding digital piano speakers I have EVER heard!
And that includes many other pianos and keyboards that have had speakers up to 40 watts total. I'm no speaker specialist, but I think a lot of this not only comes from having high quality speakers, but also because there are 2×12 cm speakers, and 2x5cm speakers. In comparison, the Roland FP-30 I used to own had 22 watts of speaker power, but only 2 x12cm speakers; I really think the inclusion of 4 speakers makes a massive difference.
Here is a quick sample of the speakers as picked up just by my iPhones built in mic.
Other Features
There are still TONS of other features to talk about, but some very general ones include:
There is of course a metronome (which I will never use, I always prefer practicing with rhythms)
You can easily transpose up or down with dedicated quick access buttons on the panel
There is a mixer where you can easily see and adjust levels of pretty much everything – the layer levels, accompaniment levels, MIDI or audio song levels, mic levels, the auxiliary audio in levels etc.
Apps
The DGX-670 is not currently compatible with Yamaha's Smart Pianist app; that is an awesome app; it adds a massive amount of features and functionality to the Yamaha P-125; BUT . . . the DGX 670 already has pretty much all of the functionality of the Smart Pianist app (& considerably more) already built into the piano itself; and since the DGX670 has such a fantastic user interface, this app wouldn't really add anything to the DGX anyways.
The DGX-670 is also not compatible with the Yamaha Rec'N'Share app which is an app that you can use to easily record and share performance videos with high quality audio – since the DGX670 has an audio interface built into the USB port, you can connect the DGX directly to your phone with a USB cable and include direct high quality audio in your video without needing an external audio interface. Now I'm not quite sure WHY the DGX isn't compatible with that app, but it doesn't really matter, because you can still easily accomplish the same thing with another camera app, including the built in camera app on my iPhone, so . . . not a big deal (this is EXACTLY how I record all my DGX-670 videos)
Are There ANY Negatives?
I've been pretty much raving about how awesome the Yamaha DGX-670 is; I've said many times before that no piano or keyboard is perfect, so what do I NOT like about the Yamaha DGX-670?
Only 2 things:
Bulky Size And MASSIVE Weight – the DGX-670 weighs 50 pounds; most portable digital pianos are in the 25 – 30 pound range, so to ME this piano isn't really portable or usable for gigs; now there WILL be gigging musicians who will roll their eyes at me who have been carting around keyboards that are even heavier than this for years, and . . . kudos to all of you, but . . . I'm not likely to be hauling this around much unless it was for a very important performance.
I think part of my issue with the weight is I just don't understand WHY it is so heavy; it is about FOUR POUNDS heavier than the Yamaha P-125 digital piano and the Yamaha PSR-SX600 arranger keyboards COMBINED!; it has the same weighted keybed as the P125, and a similar screen and electronics as the SX600, and there is even the weight of an extra set of synth action keys, some extra speakers, and two cases there!
While the DGX felt OK to use on my double braced X stand, it was still a bit wobbly – but on my Pyle Z stand, it is perfectly stable. I would definitely recommend only using the DGX on either a good quality Z stand, or the proper Yamaha stand, the L-300.
No Portable Triple Pedal Unit; if you want the LP-1 triple pedal unit, you HAVE to buy (and use) the Yamaha L-300 stand. Now I'm not an advanced classical or jazz player, so I don't care at ALL about not having soft and sostenudo pedals, BUT you can also assign a lot of other functionality to these pedals that I WOULD like to use, such as controlling arranger or super articulation functions. I have seen some 3rd party triple pedals that are portable – I may need to test one of those out . . .
The Other Choices
Yamaha DGX-670 vs. Casio PX-S3000/3100
The Casio PX-S3100 is priced the same as the DGX, the PX-S3000 can often be found on sale (and in my opinion the 3100 is NOT a significant upgrade on the 3000).
The PX-S3000/3100 are also fully weighted digital pianos with some pretty good arranger features built in. I owned a PX-S3000 for a few months and really enjoyed it.
In comparing it to the DGX-670:
It IS portable (extremely portable actually); not only super light at 24 lbs, but also thin and narrow and can even run on BATTERIES!
It has proper left and right line outs (the DGX only has a headphone out; but given that the DGX really isn't a portable gigging piano and doesn't need these ports to record audio, this isn't a huge deal)
It also has a key action I really like; light and fast like the Yamaha, and has a matte finish on the keys I wish the Yamaha had; that being said, after having now owned 2 pianos with Yamaha GHS action and 2 pianos with Casio's Smart Scaled hammer action? My overall favorite action is the GHS (with Casio's a close second place)
It has a pretty good user interface, with a menu screen and a lot of smooth capacitive touch buttons, but there is a LOT of very nested functionality deep within the menu system, so the DGX's bigger full colour screen, far more quick access tactile buttons and quite frankly just better thought out user interface is far superior
The DGX has a mic input with gain and effects that is a fantastic feature missing on the Casio
The DGX also has an audio interface built into the USB port which is a huge feature that is missing on the Casio (this allows me to record cd quality audio WITHOUT an external audio interface, which I would need on the Casio)
Just like action, sounds are a personal thing; there are fantastic piano samples on both of these pianos, but the CFX grand with VRM on the DGX670 really is something, and as good as the voices are on the Casio, I don't they have one that really competes with the CFX grand
Saving & recalling registrations and saved song files, both MIDI and audio is FAR easier on the DGX-670, and there is even a naming system built into the DGX that allows you to assign actual names instead of having to memorize or write down bank and registration numbers!
There is a built in 16 track MIDI recorder on the DGX with punch in and punch out, the Casio only has 2 tracks
I'm not an expert on evaluating the quality of the arrangement programming, but I have to admit that Yamaha really does seem to be the gold standard in this area; the rhythms I've used so far just seem to transition much better and sound more natural than Casio's; and the DGX has 4 variations for each, as well as intros and endings that have 3 length options to choose from
So basically, to me it comes down to: do you want a portable gigging piano? If so, the Casio clearly wins that battle hands down; for me, I wanted a studio piano for recording, making backing tracks and making piano videos, so the DGX 670 is perfect, especially because of the built in mic port and built in audio interface.
Yamaha DGX-670 vs Korg XE20
The Korg XE20 also sells for the same price as the Yamaha DGX-670. Korg basically did the same thing with their XE-20 as Yamaha did with the DGX; combine one of their digital pianos (the B2) with one of their successful arrangers, the EK-50 (which is a keyboard I owned and quite enjoyed).
I have however, never seen an XE20 since stores in my area don't carry much in the way of Korg products, so I can't offer a first hand opinion. From having watched many other reviews and read up on the specs, I have a feeling the DGX would outshine the XE20 in arranger features, ease of use and voice quality, as well as offering up that mic input and built in audio interface, while the Korg, like the Casio, would actually be portable and would include L/R line outs.
So even without having tried one of these, my gut feeling is that my opinion would be similar to the Casio – if you need a portable gigging piano, the Korg would be a better choice, but otherwise – Yamaha DGX-670 all the way!
Yamaha DGX-670 vs. Yamaha PSR-EW425???
The Yamaha PSR-EW425 is the flagship of Yamaha's entry level arranger PSR-E series line; it sells for just over HALF of the price of the DGX-670!
I'm including the EW-425 in this list with a big caveat – THIS IS A KEYBOARD not a digital piano, so you should ONLY consider this one if you don't need or care about whether or not you have fully weighted hammer action keys (like the keys on a piano). The keys on the PSR-EW425 are organ style with a very light unweighted action, and like almost all synth action keyboards, the keys are marketed as "full size", but they are a tiny bit narrower than the keys on almost all digital pianos.
I own the PSR-EW425 at the moment, and it IS a fabulous keyboard, and one of the best values on the market today – it's kind of like a DGX-670 "Lite" (literally); it has great sounds, great arranger features and a great user interface (but while being great, all 3 of those are still much better on the DGX); it also has a mic input with gain and effects, AND it also has that built in audio interface. And on top of all that? It has 24 watt speakers, L/R line outs and only weighs 19 pounds – so this is DEFINITELY a fantastic option for gigging (once again, if you are ok with unweighted slightly narrower synth action keys).
As far as I'm concerned, I have tried a few times with some great synth action keyboards to get used to unweighted keys, and while I can get used to them after a while? I still play much better and feel much more comfortable on a fully weighted action, which is actually one of the reasons I finally broke down and bought a DGX. Because of that, the jury is actually still out for me on whether I want to keep the 425 as a gigging instrument or sadly trade that in on something that is also portable but has fully weighted keys – so? . . . stay tuned for that drama.
The Verdict
So to sum up, what is my verdict on the Yamaha DGX-670? Well you can probably guess, but I can VERY ENTHUSIASTICALLY RECOMMEND this piano; I think this is one of the absolute best piano products on the market today; it's not CHEAP, but when you look at what you get?
It's only a couple hundred dollars more than a Yamaha P-125, and SIGNIFICANTLY cheaper than the Yamaha SX-600 arranger; and yet it has almost all the features those 2 boards offer and then some, as well as the piano room functionality from the Clavinovas. So with all that in mind, if you are like me and would like to USE all those features, then the Yamaha DGX-670 is an absolutely TREMENDOUS value for money!
The ONLY caveat I would include is that this piano is not really suited for portability and gigging, being big, heavy and lacking line the out ports.
So that's pretty much it for my introductory review on the Yamaha DGX-670; as I mentioned in the intro, since this piano has SO many features to demo, that will take me a while to figure out, that instead of putting together a horrifically long in-depth video review on my YouTube channel, instead I will be releasing shorter specific "how-to" videos on various features and topics as I get comfortable with them.
So if you want to check out current prices from Amazon in your area for the Yamaha DGX-670, or any of the other accessories or products I talk about in this review, please check out my affiliate links below.
Thanks so much, and happy piano playing! (and piano shopping 😉 )
---
I have included links below to Amazon so that you can check current pricing – please note that as an Amazon Associate I earn from qualifying purchases
DAOK 3rd Party Triple Pedal Unit (I haven't tested this!)
If you have any questions about my experience with the Yamaha DGX-670 please feel free to contact me!
Piano Training I Recommend
I've taken a number of online piano courses; the ones I'm listing here are my favorites and I can highly recommend any of these if you are looking for some online training to get started on learning piano, or to take your current skills to the next level.
This is a fantastic option if you are mostly interested in rock music. This course was created and is taught by Marine Lacoste, who is not only a fantastic instructor & pianist, but she is also a very accomplished hammond organ player – she performs regularly with her own band, as well as playing keys regularly for multiple recording artists on tour. I started this course in 2023 when I joined a band, and it is helping me greatly in taking my playing to a new level
If you sign up for Online Rock Lessons yearly subscription, use code PIANOTONE at checkout to let Marine know I referred you, and she will give you a free 20 minute orientation call!
This course is an amazing option for learning piano from beginner up to being able to perform; it teaches multiple genres of music and focuses on how to be a "one person band" on the piano. This course is taught by pro pianist Steve Lungrin – Steve has been teaching and performing his whole adult life and is a fantastic instructor and performer.
I took this course from 2020 to 2021 and it elevated my playing from a very basic level to being able to play songs in multiple genres.
Bird's Piano Academy (Beginner Blues):
If you like the blues, and (or) want to ramp up your improv/soloing abilities on the piano, this is a GREAT course. It's taught by Arthur Bird, who has a number of courses available on blues, jazz, as well as just getting started on piano. I found his beginner blues & improv course in 2022 when I "hit a wall" in my soloing abilities, and it really helped my improv and soloing in a big way.
If you're looking for the least expensive way to get started on piano, Pianoforall is a great option. It's a unique course created by Robin Hall that uses downloadable eBooks with embedded videos and audio instead of a website.
Video Version Of This Review