This is my review on the MUCH anticipated new versions of the super popular Yamaha PSR-E463 and PSR-EW410 keyboards; the brand new Yamaha PSR-E473 and PSR-EW425. The Yamaha PSR-E473 and PSR-EW425 are EXACTLY the same as each other, with only 4 differences, so while this review was carried out on my new PSR-EW425, it does apply to both keyboards. The E473 has 61 keys, 12 watts of speaker power and weighs 15.5 pounds; the EW-425 has 76 keys, 24 watts of speaker power, weighs 18 pounds, has 11 enhanced organ sounds and a higher quality 2nd piano voice. Other than that, these 2 boards are identical; I will outline these differences again during the course of the review.
If you follow my channel, you probably know that while I occasionally dabble in the arranger keyboard and non-weighted synth action keys universe, for the most part I'm a piano player that enjoys playing fully weighted digital pianos, and that I enjoy playing modern music with backing tracks & I prefer to practice with rhythms as opposed to a metronome. So, why was I super excited to buy a Yamaha PSR-EW425 as soon as it was available? Well, you'll find out in this review, but basically this keyboard is absolutely PACKED with some amazing features that are right up my alley. But given my focus, while I will go over the basic arranger features & things like the groove creator, arpeggiator etc – I will be focusing this review more on the piano & keyboard player centric features.
---
Yamaha PSR-E473 & EW425 Review – The Summary
The Keys
full sized organ style non-weighted synth action keys with 4 levels of touch sensitivity (3 levels and off)
EW425: 76 Keys
E473: 61 Keys
The Voices
820 voices (294 main "Panel" voices + SFX/drum & XGlite Voices); Includes Live!, Sweet!, Cool! & Articulation Lite Voices; EW425 has 10 premium organ voices
The Effects
12 types of reverb, 5 types of chorus and 4 types of EQ presets, 2 DSP effects at a time! (41 in DSP1, 12 in DSP2), 26 types of auto harmony
Connectivity
Headphone (1/4″), Audio in (1/8″), USB to host (both MIDI and AUDIO!), 1/4″ pedal input for sustain / arpeggiator / harmony, USB type A port for a flash drive (load styles, play audio, save audio), 1/4 " mic input with gain
---
The Rest
Backlit menu screen and very intuitive context sensitive user interface
2 live control knobs – you can assign DSP effects or reverb, chorus etc to these for on the fly modifications to your sounds
290 rhythm styles with 2 variations of each, optional accompaniment, optional intro/ending, fills, ability to mute individual instrument & 10 slots for loading custom styles
32 registration memory slots to save your setups
Panel buttons for mic mute/effects on/effects off
Metronome
Quick access octave shift/transpose button
Split & layer with ability to adjust relative volumes
Arpeggiator with 152 types
Song recorder (10 songs, up to 5 tracks each + accompaniment track)
sampling (4 slots; sample from mic or audio in)
groove creator with 35 grooves and 5 groove sections
one touch setting for recommended voices & tempo for chosen style
"Mega Boost" and "motion" effect buttons
Super Articulation Lite button for compatible voices
Battery option (PSR-EW425: 6 x D, PSR-E473: 6 x AA)
12 watts of speaker power (E473); 24 watts of speaker power (EW425)
Compatible with Yamaha Rec'N'Share app for creating quick and easy videos
---
Yamaha PSR-E473 & EW425 Review – The Details
Menu & User Interface
On the left side you have your power button and volume, the super articulation button which is nice and big and close to the keyboard for quick access; then you have your section for controlling rhythms and accompaniment or groove creator. Above that, the "Sound Control" section is where you can setup splits, layers, harmonies, arpeggiators, the metronome, secondary DSP, and start and stop recordings. Above that you have your toggle switch for your mic, your motion effect button, and live control knob setup, and then below those you have your octave shift and transpose buttons.
The center area has the menu screen and buttons below that double as track control during recording and muting style parts, as well as your registration memory buttons.
The ones on the right side are for navigating through voices and styles, accessing the function menu, your "Portable Grand" button to quickly return to voice 1, your "Mega Boost" button for volume boosting, and your quick sampling buttons.
The menu is context sensitive and will adjust what is displayed as you make selections, and enter / exit voice selection vs. style selection etc. While there are some settings that will require you to do some "menu deep diving", there have been some VERY welcome upgrades to this interface from the prior version on the PSR-E463.
The first upgrade is adding onboard quick access buttons for octave shifting – on the 463, octave shifting required a menu deep dive, and to make matters worse, if you switched the octave and then changed voices, you would lose your octave shift and have to do it again! Now, not only do you have buttons to quickly and easily shift the octave, you DON'T lose that setting as you change voices.
Another big upgrade is the method of navigating through voices and rhythms: on the E463 and EW410, your choices were to use the wheel to navigate one by one, or the category buttons to navigate one category by one, or you could type in a voice or rhythm number if you had it memorized. On the E473 and EW425, Yamaha has turned the numeric keypad into category quick access buttons so you can jump directly to the category that you want, and then fine tune your selection either with the wheel or by continually tapping the category button. I never had voice or rhythm numbers memorized, so I find this method of navigation to be MUCH quicker and easier; BUT if you do prefer the numeric keypad, you can switch to that mode instead by turning on the Num Lock.
And one more large upgrade is that on the prior models, the display did not include what bank you were in when loading or saving a registration which could be really confusing – on the new versions this has been rectified, and now the bank is displayed to the left of the registration numbers.
---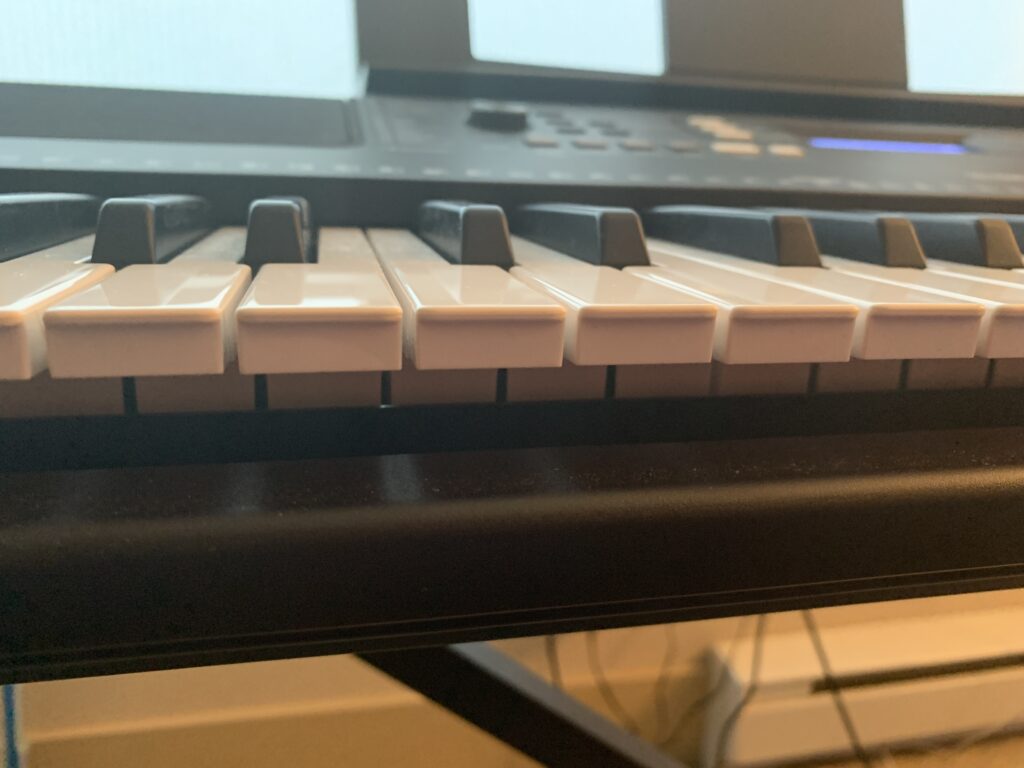 The Keys
The Yamaha PSR-E473 and PSR-EW425 have full size organ style synth action keys with 4 layers of touch sensitivity (soft, medium, hard and fixed); the 473 has 61 keys, the 425 has 76. Note that when I say "full-sized" it's an octave width of about 160mm which is considered "full-size" by most synth action keyboards, but is still slightly narrower than the standard 165mm octave width found on most fully weighted digital pianos. They are also thinner than a "box shaped" piano style key, but they are full width.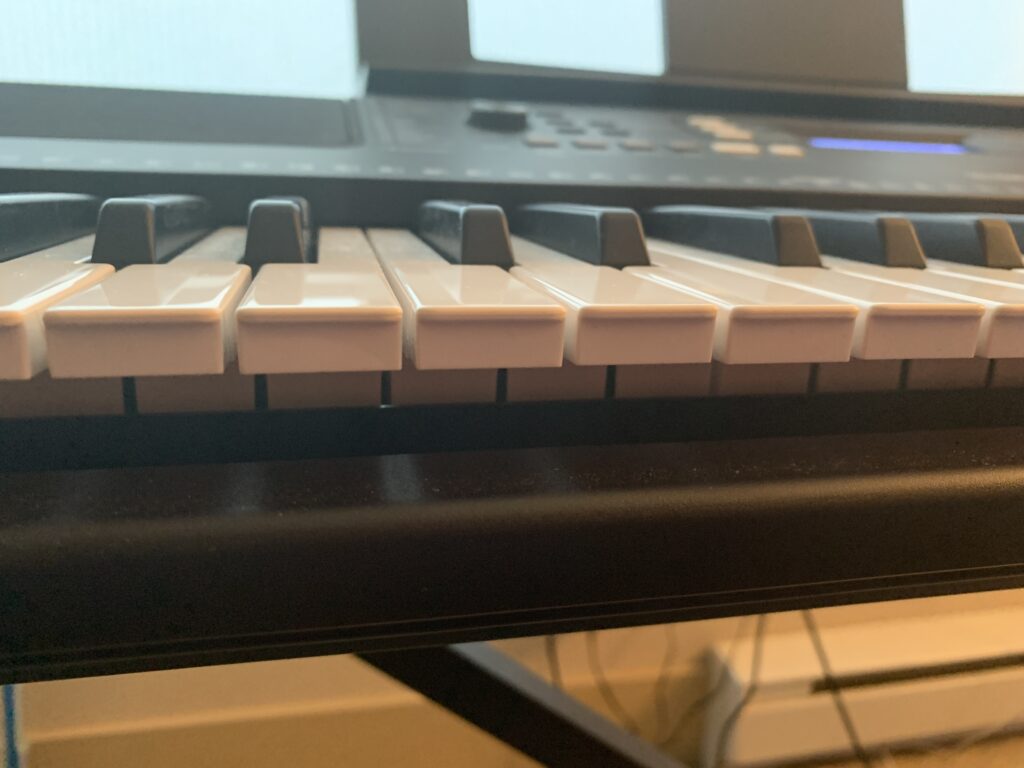 While the keys are full sized, they are not weighted or semi-weighted, so they will feel nothing like the keys on a real or weighted digital piano. I have to say that the keys on my EW425 feel higher quality than the ones on the E463 that I recently rented; I'm not sure if Yamaha has improved the keybed on the new models or if this is just because my keyboard is brand new, but they definitely feel sturdier to me.
The action on these keys I find to be pretty light; when I first started trying the keyboard out on the default touch sensitivity ("normal") I found I was having difficulty controlling my dynamics (I'm used to a fully weighted hammer action piano); so I switched the touch sensitivity to "hard" and that suited my playing style much better.
Once I switched the touch sensitivity and spent some time getting used to this action, I was actually quite impressed with the level of dynamic control that I had. While the keys are very light, they have a very consistent and predictable dynamic to them. Since they are full sized, someone used to a piano will be able to adapt to the spacing pretty quickly, but the synth action will be an adjustment that will take some getting used to.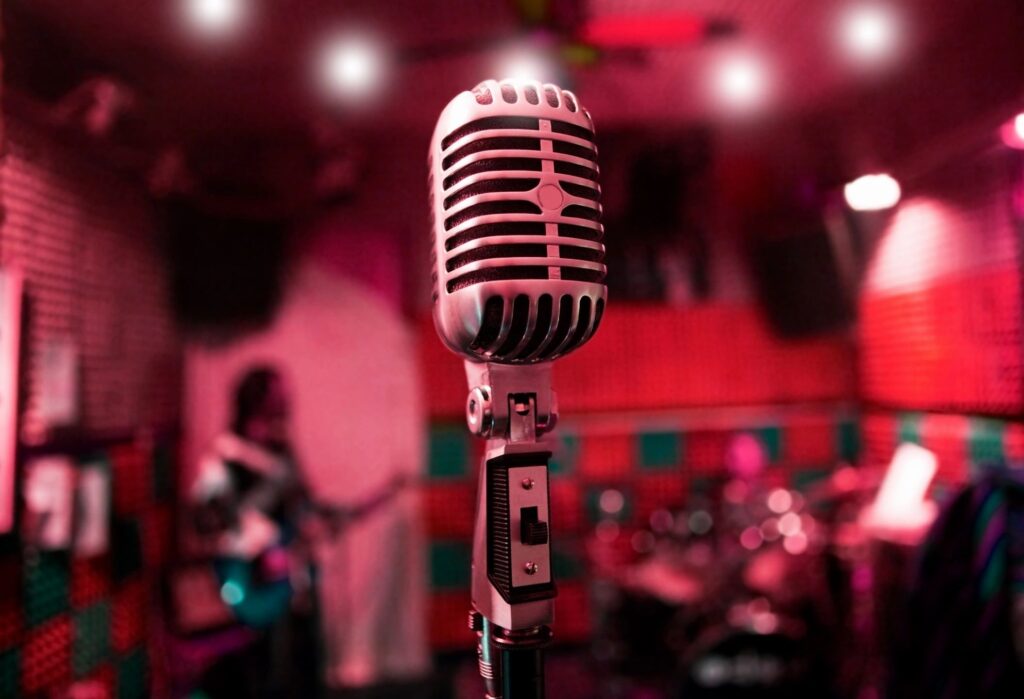 The Voices
There are a staggering 820 voices on the Yamaha PSR-E473 and PSR-EW425. There are 294 Panel Voices + 28 Drum/SFX kits + 40 Arpeggio + 458 XGlite Voices. The panel voices are really the "main" ones (the best quality). Included in the panel voices are Yamaha's enhanced Live!, Sweet! and Cool! voices as well as 14 Super Articulation Lite Voices. Each "Panel" category has 20 or more voices:
Piano & Electric Piano
Organ & Harmonica
Guitar & Bass
Strings
Brass
Woodwind
Choir & Pad
World
While the panel voices are the highest quality ones, the remaining voices including the XGLite voices are still good and round out a pretty impressive set of sounds.
The voices on the PSR-E473 and the PSR-EW425 are exactly the same except:
2nd piano voice on the EW-425 is higher quality:

PSR-EW425: Live! Grand Piano (this is a newer enhanced version of the main piano sound on the prior model, the EW410)
PSR-E473: Stereo Grand Piano (this is an enhanced version of the main piano sound on the prior model, the E463)

The first 10 organ voices on the EW-425 are higher quality:

these enhanced organ voices are sampled from the Yamaha YC series of stage keyboards, and include key on/off noise and leakage effects – the voices on the E473 are the same basic samples, but do not have these extra effects
The voices on these new models are noticeably improved over the E463 & EW410; other than the obvious reason of some new higher quality samples being used, there has been a significant polyphony increase from 48 to 64, and there is some improved processing in play, both of which have improved all of the existing samples.
The main piano sample on both the E473 and the EW425 is the "Live! Concert Grand" which is nothing short of spectacular, especially for the price range. This voice was first seen on the PSR-E373, having been borrowed from retired Tyros keyboards (which used to cost in the thousands) and then updated. This sound is even better on the PSR-E473 and EW425 because of the increased polyphony and newer processor. I really think this voice can compete with samples from higher priced keyboards and digital pianos – I'm looking forward to comparing this piano sample to the main piano on my Casio PX-S3000 digital piano.
In addition to these improved piano tones, high quality organ voices, and generally improved voices just from the increased polyphony, Yamaha has also included 14 "Super Articulation Lite" voices which have additional samples that can be triggered by pressing the Super Articulation button (harmonics or slides on guitars, staccato on flutes etc).
There are clearly far too many voices to demo, so I've picked a few of my favorites to demo in the following video; I'll include some of the layered & split voices, Super Articulation Lite voices and the voices that are upgraded on the EW-425 from the E-473 (2nd piano voice and 10 organ voices):
---
The Effects
The Yamaha PSR-E473 and PSR-EW425 share a VERY impressive set of effects and DSP functionality: In addition to the "basic" effects like 12 types of reverb (with 127 depth levels!), 5 types of chorus (also with 127 depth levels) and 4 types of EQ presets, there are also a whopping 41 DSP effects to choose from in you main DSP channel (this is up from 10 on the prior models). And to make that even MORE impressive, Yamaha's new chip and increased polyphony now allow a second simultaneous DSP effect with up to 12 choices – that is unheard of in this price range. And then to top it off there are 26 types of auto harmony you can also choose from to further fine tune your sounds.
As with the prior models, you have 2 handy live control knobs to which you can use to make on the fly adjustments to cutoff/resonance, reverb/chorus or your DSP1/DSP2 effects, and you can choose to have these knobs affect the main voices or the style.
New to the PSR-E473 and EW425 is a "Motion" effect button – this allows you to trigger multiple effects at a time (filters, pan, reverb, chorus, pitch changes, modulation etc) and apply them to all or just your chosen sounds (main sounds, styles etc).
So with all of these effects at your disposal, you have a crazy amount of options and combinations to fine tune your voices to your liking. This type of stuff is very much NOT my specialty, but I will try to demo some of these features in the video below:
Rhythms & Accompaniment
The PSR-E473 and PSR-EW425 have 290 rhythms which is up from 235 on the prior models, from a wide variety of genres. There are 2 variations of each, with optional sync start, intros, endings, fills as well as optional accompaniment, which includes backing bass and a rhythm section. Because I'm not a specialist in arranger keyboards, I can't really say if Yamaha made any changes to the actual rhythms and accompaniment on these new models, but what I can say is that the rhythms and accompaniment should sound better given the increase in polyphony and updated processing, not to mention the huge array of effects you can apply to your sounds. And given the increase in polyphony, the chance of notes dropping off is reduced.
A couple of awesome features with the rhythms and accompaniment that are brought forward from the prior models: first, you can adjust the rhythm & accompaniment volume if you want it adjusted relative to the main voice you are using which is awesome. But an absolutely HUGE feature is the ability to mute various parts of the accompaniment. This is great for me, because sometimes I just want to use the drums or just the drums and bass; but you can pick and choose what to include. So even if you are not interested in the arranger features, having a wide selection of drum styles to play along with is never a bad thing (and it's WAY more fun and engaging to play along with a drum track than a metronome for practicing).
For triggering the auto accompaniment, most entry level arranger keyboards will have multiple "chord modes" for choosing what chords the accompaniment should be playing. The Yamaha PSR-E473 and PSR-EW425 actually have less choices than most arrangers do, with only TWO choices – one is "multi finger" where you simply finger full chords in your left hand, and new with these models is the addition of Yamaha's "Smart Chord" mode – this is a shortcut mode where you specify the key a song is in, and then you can trigger diatonic chords using a single finger (for example if you choose the key of C, and press the D key you will get a D minor chord). This is an area Yamaha has always been curiously lacking in; the one feature I would absolutely LOVE to have seen in these keyboards is full keyboard chord detection which is perfect for piano players; with this detection mode, the entire range of the keyboard is used to detect what chords you are playing, and this allows you to actually hear what you play in your left hand. If having multiple chord detection modes is something that is important to you, you should look towards alternatives from Casio or Korg which have 5 or even more chord detection modes.
Here is a quick video showing the auto accompaniment, including using synch start, fills and style variations:
There are TONS of useful rhythms available; I was able to find usable rhythms for straight & syncopated beats, as well as some shuffle rhythms and some useful 3/4 or 6/8 time signatures. I'm pretty much a rock/pop/blues player, so I didn't investigate many of the other styles and ethnic beat options, but there are quite a few choices for those as well.
Registrations
The Yamaha PSR-E473 and PSR-EW425 have the ability to save up to 32 registrations so you can save your current settings (voice, style, tempo, effects, etc) for quick and easy recall. There are 8 banks available, with 4 registrations in each. You select your bank FIRST (press the Bank button repeatedly to choose your bank) and then you can save or recall registrations. using registration buttons 1 to 4. While Yamaha didn't increase the number of registrations from the prior models, one HUGE upgrade from the prior models is the addition of the current bank number to the display which was a HUGE omission from the prior keyboards where you had to remember what bank you were on.
Here is a quick video on saving and recalling registrations:
---
Connectivity
Out of all the digital pianos and keyboards I have owned or rented and reviewed, the connectivity options on the PSR-E473 and PSR-EW425 are by far the most full featured and are definitely my favorites. There is a 1/4″ port for a sustain pedal (which can be set as a sustain pedal, to hold an arpeggio or as sustain AND hold the arpeggio), a 1/4″ headphone port (it is on the back. I wish it was on the front but not the end of the world).
There is a handy 1/8″ audio in so you can connect an external sound source like an iPad to play along with YouTube or apps kuje Jamzone etc. One thing I would like to mention here that I have noticed on every Yamaha keyboard I have owned or tested as opposed to every Casio I have owned or tested; on many Casio keyboards, including my CT-S1, the audio in volume is not balanced well with the keyboard volume; if you turn up the external device to get it loud enough to match the keyboard, it often distorts. This has NEVER been an issue with any Yamaha keyboard, and it is not an issue with my PSR-EW425, it never distorts.
There are 2 x 1/4″ line out ports for connecting to external amplification, PAs or audio equipment – while the prior version of the EW425, the EW410 DID have lineouts, the E463 did not, so the addition of these ports to the PSR-E473 is a huge upgrade.
There is also a USB type A port for connecting a flash drive which can be used for:
playing back .WAV files
saving high quality direct audio as .WAV files
loading style files into empty user style slots
Now on to two HUGE features on these keyboards that were big selling points for me:
The first huge feature on the Yamaha PSR-E473 and PSR-EW425 is that it they both have an audio interface built into the USB to host port; so on most keyboards, this port is used to transmit only MIDI data (which is the data of what you play, not the actual sound of the keyboard) to a pc or iPad so you can then work with that MIDI data in recording software (using the sounds built into the software, not the actual sounds from your keyboard). But with the built in audio interface, you can not only transmit MIDI data, but you can also transmit AUDIO data (which IS the sound of your keyboard) in both directions using this port. The benefits of this are huge:
This allows you to record audio without the need for an external audio interface device – you can connect your keyboard directly to your device and then send high quality audio directly to your device's app/software (and this is not just easier but also gives you a much better quality audio signal, because it skips a round of processing done by your external interface)
You can also use this connection as an audio in to stream audio from your device to your piano so you hear that audio through your speakers / headphones, as an alternative to using the audio in port
The second huge feature that tipped the scales for me in buying one of these keyboards is the 1/4″ mic input with gain, volume control, effects and panel buttons. This is a MASSIVE feature for me because:
I can perform at a small venue with JUST the keyboard and a mic – since my EW-425 can run on batteries and has 24 watt speakers, I can perform without needing any extra mixers, or bulky audio cables
And even if I am using additional amplification like a house PA system or my battery operated Bose S1 Pro PA, I have direct control of my mic right in front me, and this also frees up an input on my Bose for other musicians playing with me
With the addition of a mic input, combined with the built in audio interface, I can now make high quality piano videos that include vocals without needing an external audio interface!
There is a gain knob on the back, and you have additional volume control in the function menu, and to make this feature even better, Yamaha added a very well thought out toggle button on the panel that allows you to mute or enable the mic (which is awesome because if you use your mic on/off switch to do that, it will often send a loud noise through the PA) and to turn effects on for singing or off for talking.
Yamaha Rec'N'Share App
The free Yamaha Rec'N'Share app takes advantage of the built in audio interface on newer Yamaha keyboards, including the Yamaha PSR-E473 and PSR-EW425, and makes it SUPER easy for you to make high quality videos that you can easily upload to YouTube or social media sites, etc; and all with just one cable and a few clicks. And with the addition of the mic input, you can now include vocals!
I will be making a separate video on using the Yamaha Rec'n'Share app; I don't need an example here, because every video on this page WAS recorded with the Rec'n'Share app, using the mic input on my PSR-EW425!
---
Groove Creator & Quick Sampling
These 2 features ae DEFINITELY NOT up MY alley 🙂 But the PSR-E473 and PSR-EW425 have quick sampling, where you can sample up to 4 audio streams from the mic or an audio in source, and then trigger those samples with quick access buttons, and they also have a "groove creator" where you can choose from various "grooves" to play along with. Basically you choose your groove, then click play to start the groove; you can specify what key the groove should be in using the notes on the left side of the keyboard, and each groove will have busier and busier "sections" that you can trigger using the accompaniment buttons to build towards a "musical climax". And while this is playing you can play the right side of the keyboard. Once again, not MY thing but here is a QUICK demo of capturing a quick sample from the mic, and then using the groove creator.
Yamaha PSR-E473 & PSR-EW425: The Other Features
Recording: You can record up to 10 songs, with 6 tracks each (5 tracks of your own + 1 track saved for accompaniment). There are no fancy features like punch in and punch out, so basically you have to record each track basically live, and perfectly from start to finish. I may make a video at a later stage on using this feature, but I'm not going to bother demonstrating it here – with all the awesome DAW apps out there for recording songs (with nice big easy to use graphical interfaces, copy and paste etc) onboard recording is in my opinion quickly becoming a thing of the past (especially when the editing is limited). And with a built in audio interface that can send audio OR MIDI directly to your DAW, and the added feature of being able to easily record high quality audio directly to a flash drive, these keyboards already have some fantastic and much more useful recording functionality.
Portability: One of the benefits of buying a keyboard without fully or semi weighted keys is portability. The PSR-E473 only weighs 15.5 pounds, and my 76 key PSR-EW425 weighs 18 pounds (most digital pianos weigh 25-30 pounds). So both of these keyboards are shorter in width than an 88 key piano, (although they are deeper than most digital pianos) and are lighter and pretty easy to move around. They are still heavier and bulkier than entry level keyboards like the PSR-E373 and Casiotone keyboards which weigh around 10 lbs, so I would still recommend a double brace X stand. But in comparison to a weighted key digital piano, these boards are great for a pianist looking for a portable option.
Speakers: The speakers on the Yamaha PSR-E473 are 12 watts total (6 per side) so they are a large step up on the PSR-E373, or any of the new Casiotone CT-S series (300,400, 500 or CT-S1) all of which are only 5 watts total. The PSR-EW425 takes it a big step further, with an impressive 24 watts of speaker power, which is actually probably enough to perform in a small venue, or busking. The speakers sound very clear (Yamaha speakers are always good quality) and project well. Here is a quick video of how the speakers sound on my PSR-EW425 as being picked up by the built in mic on my iPhone, including a test of the "Mega Boost" feature. I have to say these speakers sound spectacular, and do not distort at all – they are full, clear and powerful. And with the mega boost at 100%, there is a significant volume boost, and I still heard no distortion!
---
The Other Choices
Korg EK-50: The Korg EK-50 is a fantastic arranger keyboard with good quality sounds that would be comparable to the PSR-E463 or EW-410 sounds. But the sound quality on the new PSR-E473 and EW-425 are definitely a step up from the Korg. The Korg has good speakers at 20 watts, L/R line out ports as well as the best user interface on any keyboard or piano I have ever seen. It also has a very unique way of implementing voices – they are set up as "keyboard sets"; basically Korg has done a lot of work for you by setting up groups of 4 voices (3 upper 1 lower) that sound good together, and gives you quick access buttons to turn these layers on and off. But, the Korg doesn't have a built in audio interface or a mic input, so while it is a worthy competitor for the E463, the new Yamaha PSR's definitely outshine the Korg
Casiotone CT-S500: This is a new arranger keyboard from Casio that was released in 2022. I haven't actually seen one of these yet, but it would be worth looking at. It has the same keybed as my CT-S1, which is almost a semi-weighted feel, so it will feel heavier than the Yamaha. It also has tons of voices and effects and live control knobs, more chord detection modes, really good piano voices, and also has L/R line outs. It is also more portable – it is much lighter and smaller. But there are quite a few areas where both the PSR-E473 and PSR-EW425 outshine the Casiotone:

the ability to mute style parts
a built in audio interface (I do not understand why Casio STILL hasn't started including that feature in their keyboards)
significantly more speaker power at 12 or 24 watts vs. 5
mic input with gain and effects
To be honest, in my opinion the only reason to consider the Casiotone instead of these new Yamahas would be if the chord detection modes, heavier action, and(or) the slightly better portability was super important to you.

Yamaha PSR-463 & PSR-EW410: So what about the prior versions? With the release of the new versions, you may be able to find the prior models at a discount, This is something to consider, but keep in mind what the new models have to offer:

more polyphony and upgraded processing
significantly higher quality voices
L/R line out ports now on the PSR-E473
mic input with gain and effects
sturdier feeling action
improved user interface and navigation
Personally, a lot of these new features are super important to me, so I wouldn't consider one of the older models just to save some money, but if these features aren't super important to you, then these might be a good option if you can find one at a discount

Yamaha DGX-670 & Casio PX-S3000 Digital Pianos: It's not really fair to compare these since they both cost about twice what a PSR-E473 costs, but I wanted to mention them because these two pianos are the only products I know of that even come close to matching the feature set on the PSR-E473 and PSR-EW425. The Yamaha DGX-670 digital piano, which is an amazing product; has an amazing user interface, extremely high quality sounds, a great fully weighted action and DOES have a mic input; BUT – it weighs a whopping 50 pounds, doesn't run on batteries, doesn't have L/R line outs. And the Casio PX-S3000 – this product actually comes closer to matching the PSR features since it does have the L/R lineouts, and is pretty light at 24 lbs and does run on batteries, but the Casio doesn't have a built in audio interface, and it doesn't have that mic input port, and while the user interface is great, the Yamaha's is still better with a much bigger screen displaying more info, and more dedicated buttons
Yamaha PSR-E473 & PSR-EW425: The Verdict
The verdict is easy on these keyboards is easy – ABSOLUTELY FANTASTIC!
In my opinion, if having fully weighted keys isn't super important to you, then the Yamaha PSR-E473 and EW425 are DEFINITELY the 2 best value keyboards on the market today. Other than not having weighted keys, these 2 keyboards include pretty much EVERY other feature I can think of, and then extra ones like the mic input with gain and effects.
Great quality & selection of sounds, especially piano, electric piano and organ
Good user interface: a menu screen, lots of buttons including quick access buttons for important things like octave shifting, transposing, splitting and layering, don't have to memorize key combinations, refer to a manual, or depend on an app
Decent action, most importantly with consistent and predictable dynamic control
Registrations to save common settings and (or) setups for my repertoire
L/R line out ports (important for recording and performing, and also allows the speakers to be enabled as monitors while connected to external amplification)
Decent speakers (24 watts on the EW425 is amazing and the 12 watts on the E473 is more than double what you get on the comparably priced Casiotone keyboard)
A good selection of rhythms and accompaniment – definitely something I like to have for practicing, but possibly also usable for performances,5000 or even for making my own backing tracks
Decent portability: not too heavy and the ability to run on batteries
Audio in options for streaming backing tracks that have well balanced and configurable volume levels (these keyboards have 2 options: the audio in port or playing tracks from a flash drive)
Built in audio interface for easily recording piano videos with high quality audio, or to send high quality audio to a device directly without needing an external audio interface
Ability to record high quality audio direct to a flash drive for easy transfer to a pc for editing
Well, these 2 keyboards from Yamaha are the ONLY KEYBOARDS or digital pianos that I am aware of that have ALL of these features. And they do that for $370 USD for 61 keys or $490 USD for 76 keys! And on top of that, they even ADD that additional SUPER useful feature of a mic input with gain and effects..
So I can DEFINITELY recommend the Yamaha PSR-E473 and PSR-EW425 keyboards, as long as you're ok without weighted keys – as I said before, in my opinion these are the best value keyboards on the market today. I spent the extra $120 on the 76 key version to get the 76 keys and the bigger speakers and that was worth it for me, but to be honest with the new onboard octave shift buttons, the 61 key E473 would have been awesome as well. If you would like to check current prices for the Yamaha PSR-E473 or PSR-EW425 or any of the other keyboards I mentioned here, please click my appropriate affiliate link below to check that out. I've also included a link to a good generic sustain pedal that has a polarity switch.
Thanks so much, and happy piano playing! (and piano shopping 😉 )
---
I have included links below to Amazon so that you can check current pricing – please note that as an Amazon Associate I earn from qualifying purchases
---
If you have any questions about my experience with the Yamaha PSR-EW425, please feel free to contact me!
Piano Training I Recommend
I've taken a number of online piano courses; the ones I'm listing here are my favorites and I can highly recommend any of these if you are looking for some online training to get started on learning piano, or to take your current skills to the next level.
This is a fantastic option if you are mostly interested in rock music. This course was created and is taught by Marine Lacoste, who is not only a fantastic instructor & pianist, but she is also a very accomplished hammond organ player – she performs regularly with her own band, as well as playing keys regularly for multiple recording artists on tour. I started this course in 2023 when I joined a band, and it is helping me greatly in taking my playing to a new level
If you sign up for Online Rock Lessons yearly subscription, use code PIANOTONE at checkout to let Marine know I referred you, and she will give you a free 20 minute orientation call!
This course is an amazing option for learning piano from beginner up to being able to perform; it teaches multiple genres of music and focuses on how to be a "one person band" on the piano. This course is taught by pro pianist Steve Lungrin – Steve has been teaching and performing his whole adult life and is a fantastic instructor and performer.
I took this course from 2020 to 2021 and it elevated my playing from a very basic level to being able to play songs in multiple genres.
Bird's Piano Academy (Beginner Blues):
If you like the blues, and (or) want to ramp up your improv/soloing abilities on the piano, this is a GREAT course. It's taught by Arthur Bird, who has a number of courses available on blues, jazz, as well as just getting started on piano. I found his beginner blues & improv course in 2022 when I "hit a wall" in my soloing abilities, and it really helped my improv and soloing in a big way.
If you're looking for the least expensive way to get started on piano, Pianoforall is a great option. It's a unique course created by Robin Hall that uses downloadable eBooks with embedded videos and audio instead of a website.
Here is the full video review: